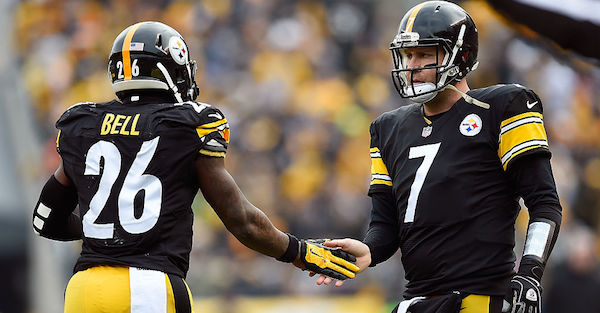 Joe Sargent/Getty Images
PITTSBURGH, PA - DECEMBER 21: Le'Veon Bell #26 of the Pittsburgh Steelers celebrates his touchdown with Ben Roethlisberger #7 during the second quarter against the Kansas City Chiefs at Heinz Field on December 21, 2014 in Pittsburgh, Pennsylvania. (Photo by Joe Sargent/Getty Images)
The Pittsburgh Steelers applied the franchise tag to star running back Le'Veon Bell, but Bell has yet to sign the one-year, $12 million deal.
Bell wants a long term contract with the team, but so far the two sides haven't worked out an agreement.
NFL analyst Tim Benz of DK Sports Radio believes that if they can't work out a deal, the Steelers should look to trade Bell to the Los Angeles Rams for star defensive tackle Aaron Donald, who is in a similar contract situation.
"Lev Bell for Aaron Donald. Would you do it?" Benz asked. "You gotta think long and hard, don?t ya? Long term, I?d absolutely do it."
Related: Teams calling the Steelers about Antonio Brown?s availability have been met with one pointed answer
Donald is considering holding out for a long term deal, and the Rams will more than likely pay him considering he's among the best defensive players in the league. The trade wouldn't make much sense for the Rams because they have Todd Gurley at running back. Gurley had a down year last season, but the team still invested a top-10 pick on him two years ago.
The trade would also leave the Steelers with no depth at running back unless they received a RB in return. Benz acknowledged that point, and he said he probably wouldn't do the trade but he'd at least "think about it."
Bell is one of the top backs in the NFL, but it's easy to understand why the Steelers are skeptical about signing him to a long term contract. He has a history of injuries and suspensions, which is probably why the team felt it was best to give him the franchise tag.
It's hard to imagine either Bell or Donald not receiving a long term deal in the near future, but until then there will be plenty of speculation about the futures of the young stars.
(h/t All 22)