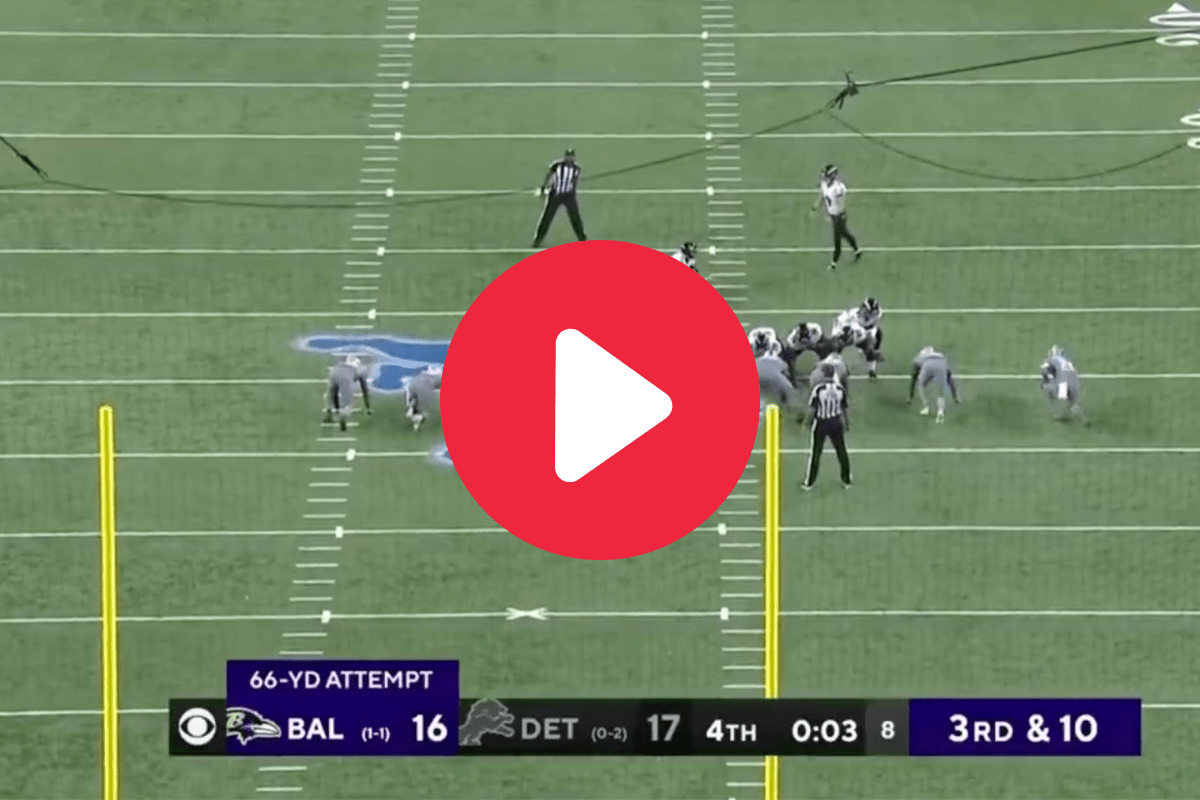 Screenshot from Twitter:NFL
Making a field goal during a football game is hard. Don't listen to anyone who tells you otherwise. The pressure alone makes it tough and opposing players trying to block a kick only adds to the difficulty. Yet, somehow, NFL kickers make it look so easy.
Throughout the years, there have been some incredible legs to blast pigskins through the uprights. A few of them have even made the Pro Football Hall of Fame. It's definitely not the most glamorous job in the world, but it can do more than just pay the bills if you're one of the best at it.
As for the longest field goal in NFL history, that used to belong to former Denver Broncos kicker Matt Prater, who boomed a 64-yarder back in 2013. That changed during the 2021 season when the Baltimore Ravens and Detroit Lions met on September 26.
Longest NFL Field Goal: Justin Tucker's 66-Yard Field Goal
With three seconds left in the fourth quarter and his team down 16-17, Ravens kicker Justin Tucker lined up an ambitious field goal attempt. He took a few steps and swung his leg with as much power as he could.
The booming 66-yarder bounced off the bottom of the crossbar and into the net. Just like that, Tucker not only won the game for his team at Ford Field but set the record for longest field goal in NFL history.
Tucker broke a record that stood for nearly eight years.
Former Record: Matt Prater's 64-Yard Field Goal
RELATED: College Football's Longest Field Goal Needed Some Assistance
Trailing 21-17 at the end of the first half, the Denver Broncos sent out kicker Matt Prater to make his second field goal of the game. It was a gamble, no doubt, but it was worth the chance to cut the Tennessee Titans lead and go into halftime at Sport Authority Field at Mile High with some momentum.
Up to that point, four NFL players had made a 63-yard field goal. Nobody had cleared it from 64. That's what Prater was facing, though, and he was ready to make history.
Prater did his normal routine. He took a deep breath. Then, he kicked the living crud out of the football with his right foot and needed every gust of wind in his favor to squeak it over the goal post. The NFL record was his and, despite trailing in the game, several Broncos players rushed the field like they had just won the Super Bowl.
"Such an awesome moment, I'm glad it came in a win," Prater said. "It was crazy, it was awesome because almost the whole team rushed the field after that kick. It definitely was a momentum swing."
Denver rolled over Tennessee in the second half to win 51-28. Prater made three field goals and six extra points that December afternoon. None were obviously more impressive than his 64-yarder before halftime.
It remained the longest in NFL history until Justin Tucker dethroned Prater. There have been longer field goals in high school, NCAA college football and NFL preseason, but none longer during the National Football League regular season or playoffs than these two.
List of NFL Kickers With 60-Yard Field Goals
Since the NFL-AFL merger in 1970, there have been 22 field goals over 60 yards. Some kickers have even flirted with the record recently, including Graham Gano's 63-yard game-winning kick against the New York Giants in 2018 and Brett Maher's 63-yarder against the Philadelphia Eagles in 2019.
Maher also added two more 62-yard field goals against the Eagles and New York Jets. In 2020, Jason Myers set a Seattle Seahawks record by drilling a 61-yarder.
Here is the full list of the longest NFL field goals of all time with assistance from the Pro Football Hall of Fame:
66 Yards: Justin Tucker (Baltimore Ravens, 2021)

64 Yards: Matt Prater (Denver Broncos, 2013)

63 Yards: Tom Dempsey (New Orleans Saints, 1970), Jason Elam (Denver Broncos, 1998), Sebastian Janikowski (Oakland Raiders, 2011), David Akers (San Francisco 49ers, 2012), Graham Gano (Carolina Panthers, 2018), Brett Maher (Dallas Cowboys, 2019)

62 Yards: Matt Bryant (Tampa Bay Buccaneers, 2006), Brett Maher (Dallas Cowboys, 2018), Brett Maher (Dallas Cowboys, 2019)

61 Yards: Sebastian Janikowski (Oakland Raiders, 2009), Jay Feely (Arizona Cardinals, 2012), Justin Tucker (Baltimore Ravens, 2013), Greg Zuerlein (St. Louis Rams, 2015), Jake Elliott (Philadelphia Eagles, 2017), Jason Myers (Seattle Seahawks, 2020)

60 Yards: Steve Cox (Cleveland Browns, 1984), Morten Andersen (New Orleans Saints, 1991), Rob Bironas (Tennessee Titans, 2006), Dan Carpenter (Miami Dolphins, 2010), Greg Zuerlein (St. Louis Rams, 2012), Chander Catanzaro (Arizona Cardinals, 2016)
Touchdowns are cool, but so are long field goals. Teams like the Detroit Lions, Green Bay Packers, Buffalo Bills, Minnesota Vikings, Cincinnati Bengals, Indianapolis Colts, Atlanta Falcons, Houston Texans, Jacksonville Jaguars, Los Angeles Chargers, Los Angeles Rams, New England Patriots and Seattle Seahawks, among others, have all been on the wrong side of history, too.
It was only a matter of time before the record was broken during the NFL season. Brandon McManus wanted to be the guy, but Tucker showed everyone why he's the greatest.
This post was originally published on July 16, 2020. It was updated following Justin Tucker's record-setting kick.