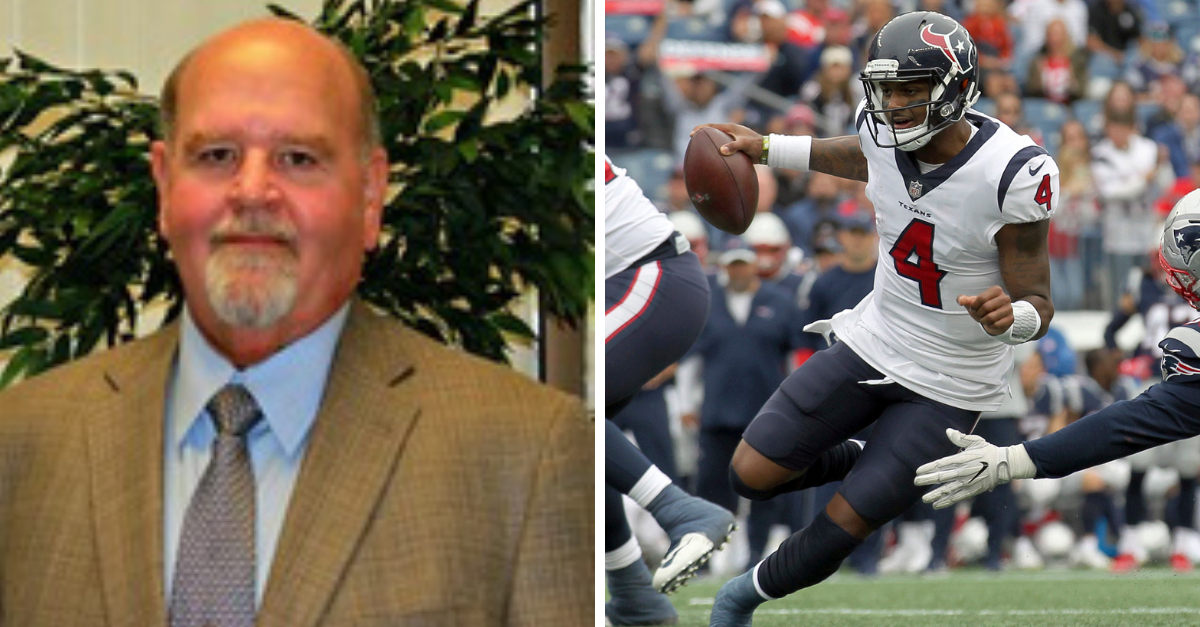 OnalaskaISD.net, AP Photo/Stew Milne
OnalaskaISD.net AP Photo/Stew Milne
When Onalaska Independent School District superintendent Lynn Redden opened up Facebook, he thought he would be privately responding to a message. What happened was he publicly posted a thought which stated, "You can't count on a black quarterback" when the game matters most.
After backlash swirled for the last week, Redden has submitted his resignation as superintendent effective last Saturday night. In his resignation letter, the 42-year public education servant professed his apologies to the Onalaska community, the school's Board of Trustees, and most importantly, to Houston Texans quarterback Deshaun Watson.
It became obvious this apology would soon be followed with a prompt resignation after Redden's comments were made public on the Houston Chronicle's Facebook page. If there was any silver lining to this ugly story, it is how Redden makes it a point to honor the man whom he slighted in his resignation letter.
"I'd like to apologize directly to Deshaun Watson. I recognize that given the opportunity to respond by criticizing or belittling me, he chose peace and positivity instead. In spite of the terrible position I put him in, he showed himself to be the kind of role model I'd be proud for any of my students to follow." — Lynn Redden
Several players, including Texans defensive end J.J. Watt, came to Watson's defense to condemn Redden, but it was the quarterback himself who took the high road.
When asked about those comments made by the former Onalaska superintendent last week, the 23-year-old quarterback calmly responded to reporters' questions and chose to focus on being "all about love."
It's a terrible situation when racism gets brought into the picture, but especially when unwarranted comments ultimately lead to the end of a career. I'm sure Vernon "Lynn" Redden regrets what he said, and I'm sure that his long career in public service, which included 12 years working in the Onalaska ISD, brought a lot of positive impact to the Onalaska community.
Still, Redden's resignation sheds further light into ongoing social challenges faced by the black community on a daily basis in today's world.