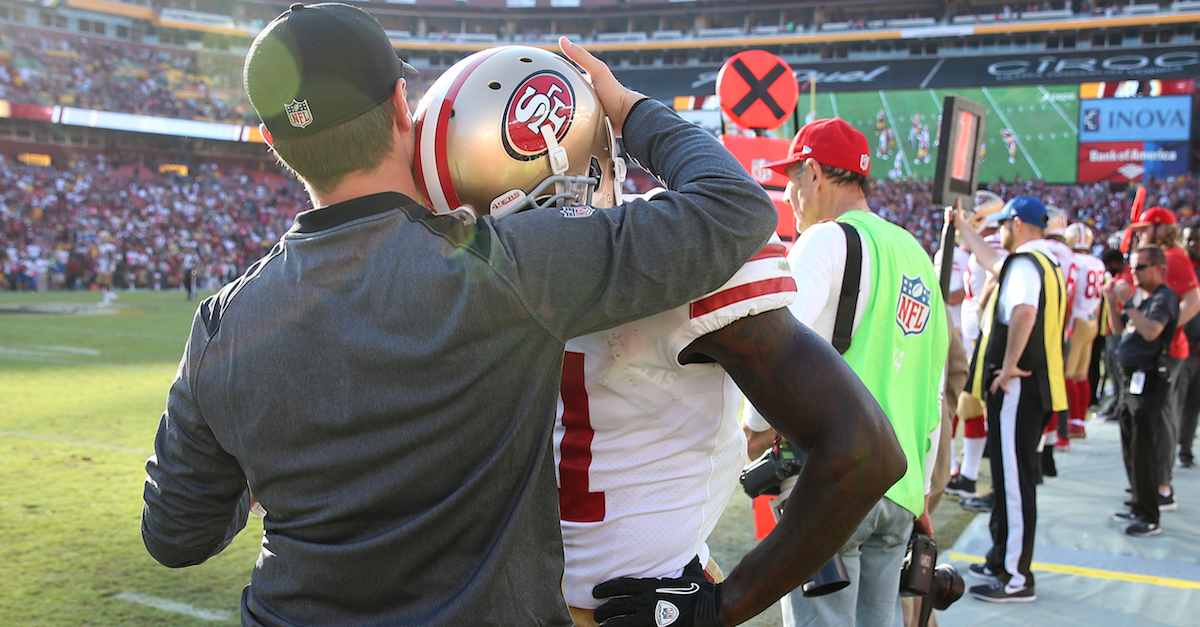 Patrick Smith/Getty Images
LANDOVER, MD - OCTOBER 15: Wide receiver Marquise Goodwin #11 of the San Francisco 49ers is consoled by a coach as time expires and the San Francisco 49ers lose to the Washington Redskins during the fourth quarter at FedExField on October 15, 2017 in Landover, Maryland. (Photo by Patrick Smith/Getty Images)
Exactly one month after tragically losing his son, San Francisco 49ers wideout Marquise Goodwin has now lost his father, according to an Instagram post (H/T Reddit)
Goodwin lost his son back on November 13, but opted to go out and play against the New York Jets.
"I just wanna thank those who've genuinely prayed for @morganakamomo & myself through out this pregnancy. Unfortunately we lost our baby boy due to some complications, and had to prematurely deliver him early this morning around 4am. Although we are hurt, I am grateful for the experience and grateful that God blessed me with a wife as courageous and resilient as Morgan. The pain (physically, mentally, & emotionally) that she has endured is unbelievable. Please Pray for the Goodwin family."
He went on to score on an 83-yard touchdown, and emotionally broke down in the end zone after the play.
If he does suit up against the Tennessee Titans, don't be surprised if he throws together another solid outing.
He was a third-round pick by the Buffalo Bills in the 2013 NFL Draft. After putting together 780 yards and six scores in four seasons in Buffalo, he's added 783 yards through the air and one touchdown in his first season with the 49ers.