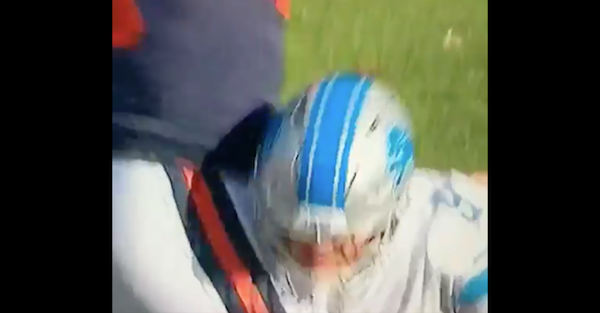 @iamvega1982/Twitter
Quarterbacks will do anything they can to gain extra yardage, including trying to bait officials into throwing a flag for late unnecessary roughness.
The Detroit Lions squared off against their rival Chicago Bears on Sunday afternoon, and the Detroit offense was struggling early on against the Bears defense. Lions quarterback Matthew Stafford tried to get his offense some extra yardage by baiting officials into calling a flag, and it might've been the worst attempt at flopping in NFL history.
Stafford leaned his helmet in and made contact with a Bears defender, and then Stafford snapped his head back as if the Bears defender had hit him.
Related: NFL RB done for the year after brutal injury forced him to be carted off the field
It was a pretty sad attempt at drawing a flag, but hey, whatever works.
The Lions went on to win the game 27-24 to improve to 6-4 on the year, and they kept their postseason hopes alive with the win.