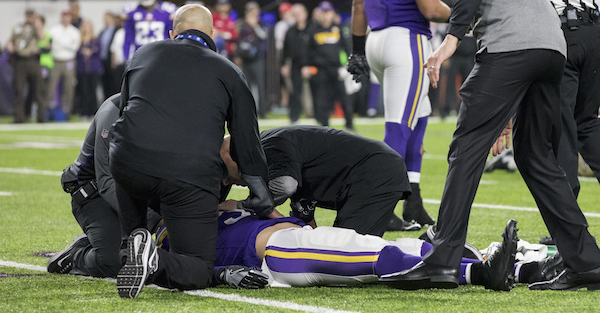 Adam Bettcher/Getty Images
MINNEAPOLIS, MN - JANUARY 14: Andrew Sendejo #34 of the Minnesota Vikings is evaluated by trainers on the field after suffering an injury in the third quarter of the NFC Divisional Playoff game against the New Orleans Saints on January 14, 2018 at U.S. Bank Stadium in Minneapolis, Minnesota. Sendejo was later ruled out for the game with a concussion. (Photo by Adam Bettcher/Getty Images)
The Minnesota Vikings emerged victorious over the New Orleans Saints in epic fashion and the team's prize was a trip to the NFC Championship Game against the Eagles. While the victory was memorable in a number of ways, one of them was less than ideal for the Vikings, as safety Andrew Sendejo was forced to leave the action after a brutal hit from Saints Pro Bowl wide receiver Michael Thomas.
It was immediately controversial that Thomas was neither penalized nor ejected for the hit and, in the aftermath, many assumed that the former Ohio State star would be fined for the play. However, fines have come to light from the playoff contest (h/t 247Sports) and they do not include Thomas being hit in the wallet.
Two Saints players, offensive tackle Terron Armstead and defensive end Trey Hendrickson, were handed fines of $18,231 each for plays within the game and neither was particularly surprising in nature. However, Thomas not being fined for the play against Sendejo is certainly controversial and, despite the win, Vikings fans likely won't be pleased with this particular oversight by the league.
There is at least a chance that Sendejo could emerge from the concussion protocol in time to face the Eagles on Sunday, but the league clearly didn't think much of the play that sidelined him and that won't be perceived well by everyone.