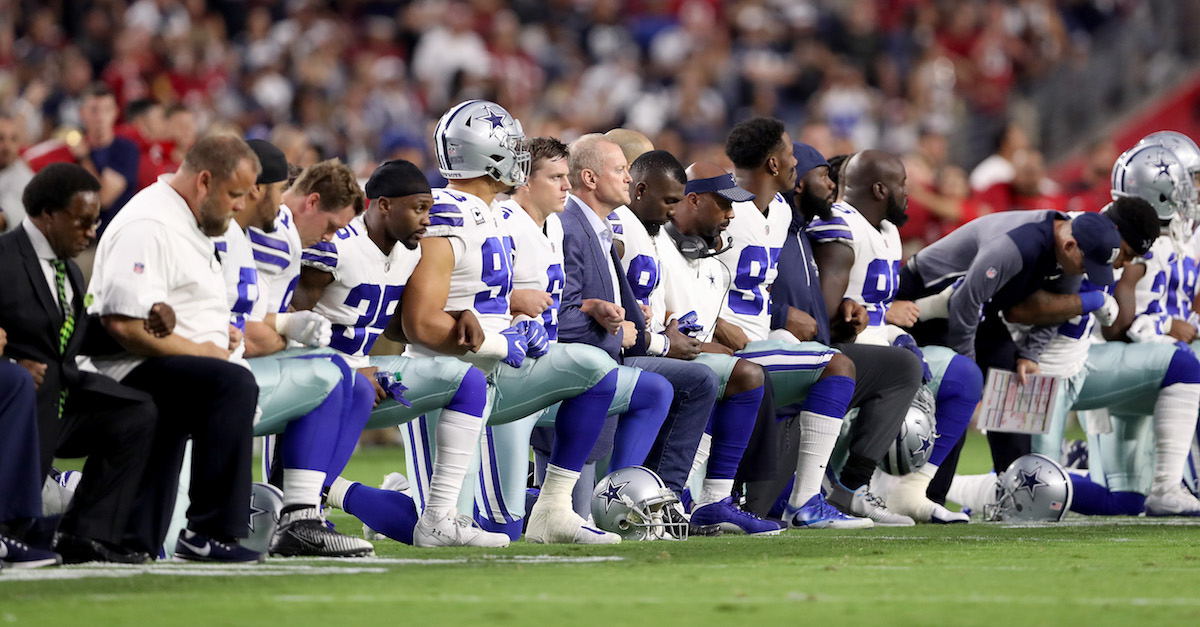 Christian Petersen/Getty Images
GLENDALE, AZ - SEPTEMBER 25: Members of the Dallas Cowboys link arms and kneel during the National Anthem before the start of the NFL game against the Arizona Cardinals at the University of Phoenix Stadium on September 25, 2017 in Glendale, Arizona. (Photo by Christian Petersen/Getty Images)
The national anthem has been a hot topic in the National Football League as of late, and a rule change could make things a bit more divisive between the league and its players.
While the NFL rulebook has no verbiage about standing for the national anthem, the game operations manual is quite clear:
"The National Anthem must be played prior to every NFL game, and all players must be on the sideline for the National Anthem.
During the National Anthem, players on the field and bench area should stand at attention, face the flag, hold helmets in their left hand, and refrain from talking. The home team should ensure that the American flag is in good condition. It should be pointed out to players and coaches that we continue to be judged by the public in this area of respect for the flag and our country. Failure to be on the field by the start of the National Anthem may result in disciple, such as fines, suspensions, and/or forfeiture of draft choice(s) for violations of the above, including first offenses."
The release of this section of the game operations manual came after Jerry Jones' comments on Dallas Cowboys players and their requirement to stand for the national anthem.
But, as Deadspin points out, aspects of the rule are relatively new, at least from the 2014 version of the manual.
The discipline area at the bottom of the post originally had this text:
"Failure to be on the field by the start of the National Anthem may result in disciplinary action from the League office."
When the league added more punishment is unknown.
There is no guarantee players will be punished, as the wording is clear that it "may result."
The NFL is also reportedly considering changing wording from "should stand" to "must" stand.
We'll keep an eye out to see if the league responds as to what this means and if punishments will be handed down.