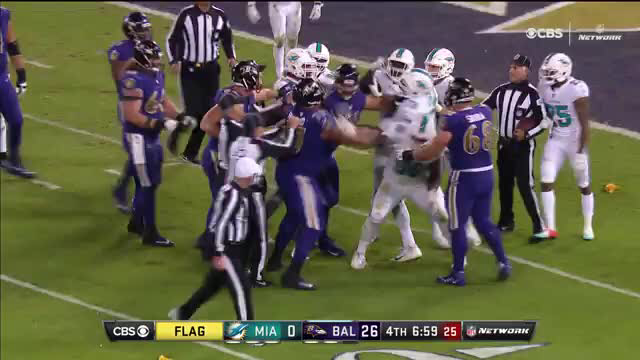 mattclapp/Clippit
mattclapp/Clippit
The Baltimore Ravens hosted the Miami Dolphins on Thursday night and the game was never close, but that didn't stop some players from venting their frustrations on the other team. Namely the Dolphins getting angry about a 40-0 blowout where Ravens quarterback Joe Flacco was knocked out of the game on a dirty hit. And one of the league's dirtiest players in Ndamukong Suh got it started with a choke slam on backup QB Ryan Mallett:
That led to some tempers flaring and ultimately a major fight near the end of what should have been a peaceful blowout. Ravens and Dolphins players were still going at each other with the game already decided and only seven minutes left in it.
After the game, Suh told the South Florida Sun-Sentinel that he was just protecting himself when he got face-to-face with Mallett.
?Simple as this,? Suh began. ?He came at me and tried to attack me, and I?m protecting myself.?

Asked whether he regretted his actions, Suh replied, ?I?m never going to regret protecting myself.?
It's going to be hard to back that up having seen the footage and considering Mallett didn't raise his fists or seem like he was going to strike Suh. Suh was somehow not ejected — much like Kiko Alonso was not ejected for his hit on Flacco — but could face a stiff fine or suspension from the league after they review the tape.