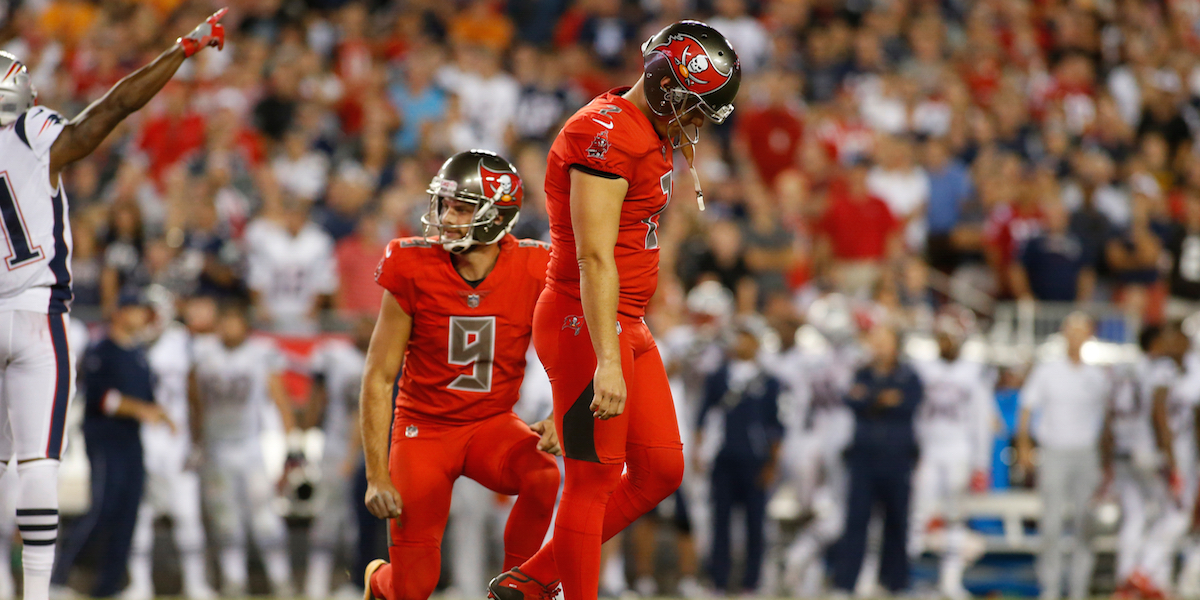 Brian Blanco/Getty Images
TAMPA, FL - OCTOBER 5: Kicker Nick Folk #2 of the Tampa Bay Buccaneers reacts in front of punter Bryan Anger #9 after missing a field goal during the fourth quarter of an NFL football game on October 5, 2017 at Raymond James Stadium in Tampa, Florida. (Photo by Brian Blanco/Getty Images)
Tampa Bay Buccaneers kicker Nick Folk's horrendous performance during Thursday's 19-14 loss to the New England Patriots may have cost him his job.
Folk missed three field goals from 56, 49 and 31 yards, which ended up being the difference in the game. On Friday, the Bucs reportedly reached out to several available kickers and are scheduling workouts, according to Greg Auman of the Tampa Bay Times.
That doesn't bode well for Folk who just days earlier played the hero in a 25-23 win over the Giants last Sunday by making a game-winning 34-yard field goal as time expired, despite having missed two previous attempts and an extra point earlier in the game.
Folk accepted blame for Thursday's loss, telling reporters, "Yeah, I left points out there," after the game. "We should've won that game 20-19. This one's on me."
The veteran was brought in along with former Arkansas kicker Zach Hocker to compete with former second-round pick Roberto Aguayo in training camp. The Bucs opted to cut Aguayo in preseason as his struggles continued, but Folk has left much to be desired.
Folk is 2-of-7 on field goal attempts during his past two games and 6-of-11 during the 2017 season. The Bucs have totaled 12-of-21 (57 percent) as a team on field goals at home dating back to last season.