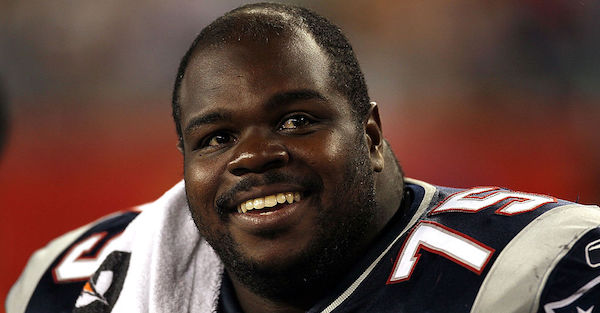 Jim Rogash/Getty Images
FOXBORO, MA - AUGUST 12: Vince Wilfork # 75 of the New England Patriots watches the action from the sidelines during the preseason game against the New Orleans Saints at Gillette Stadium on August 12, 2010 in Foxboro, Massachusetts. (Photo by Jim Rogash/Getty Images) *** Local Caption *** Vince Wilfork
Free agent nose tackle Vince Wilfork is considering retiring from the NFL after 11 years in the league.
Wilfork said on SiriusXM NFL Radio on Friday that he is "50-50" about retiring.
"I don?t want to rush that decision because that?s a big decision to make," Wilfork said. "Because I don?t want to be retired and really not, and I don?t want to be playing and I?m really not into it. So that?s why I?m just taking the time now just to figure out, 'Is it something I want to continue to do or not?' And I?m not going to rush it. I?m just going to let everything play out and see how I feel."
Related: Brock Osweiler takes not-so-veiled shot at Houston Texans after miserable one-year tenure
Wilfork spent the last two seasons with the Houston Texans. His numbers declined with Houston, though he was never the type of player to put up gaudy stats.
Wilfork spent the first nine years of his career with the New England Patriots, where he won two Super Bowls. He made the Pro Bowl five times, and he was named a First Team All-Pro in 2012.
The Patriots drafted Wilfork in the first round of the 2004 NFL Draft out of Miami.
Wilfork signed a two-year, $9 million deal with the Texans in 2015. His decision on whether to return for another season will likely come down to money.
(h/t All 22)