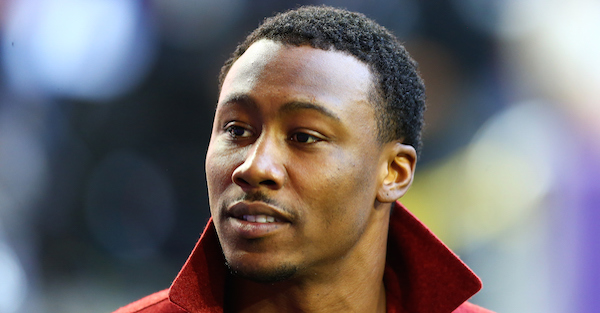 Ronald Martinez/Getty Images
GLENDALE, AZ - FEBRUARY 01: Brandon Marshall of the Chicago Bears stands on the field prior to Super Bowl XLIX at University of Phoenix Stadium on February 1, 2015 in Glendale, Arizona. (Photo by Ronald Martinez/Getty Images)
Terrell Davis knows a thing or two about greatness. The Hall of Famer is a two-time Super Bowl winner with the Denver Broncos and was even a Super Bowl MVP. So when Davis opines about the best wide receiver tandem in the NFL, his words certainly carry weight.
He believes the best wide receiver pair resides in New Jersey, at the home of the New York Giants — Odell Beckham Jr. and Brandon Marshall.
RELATED: The New England Patriots threw some serious shade at the Atlanta Falcons
"We do like them as probably the best tandem in the National Football League," Davis said on NFL Total Access.
Some other pairs came up, like Atlanta's Julio Jones and Mohamed Sanu, but in the end, OBJ and Marshall got the nod. And why not? OBJ is one of the league's most dynamic offensive players, and Marshall is a big target that demands attention in the red zone. In 2016, Marshall's yard per catch (13.4) exceeded his career average (12.8) even though he played for a putrid Jets team that had the second worst starting quarterback play in the league, based on QBR.
He and Beckham will give Eli Manning plenty of options, a huge help for any quarterback.