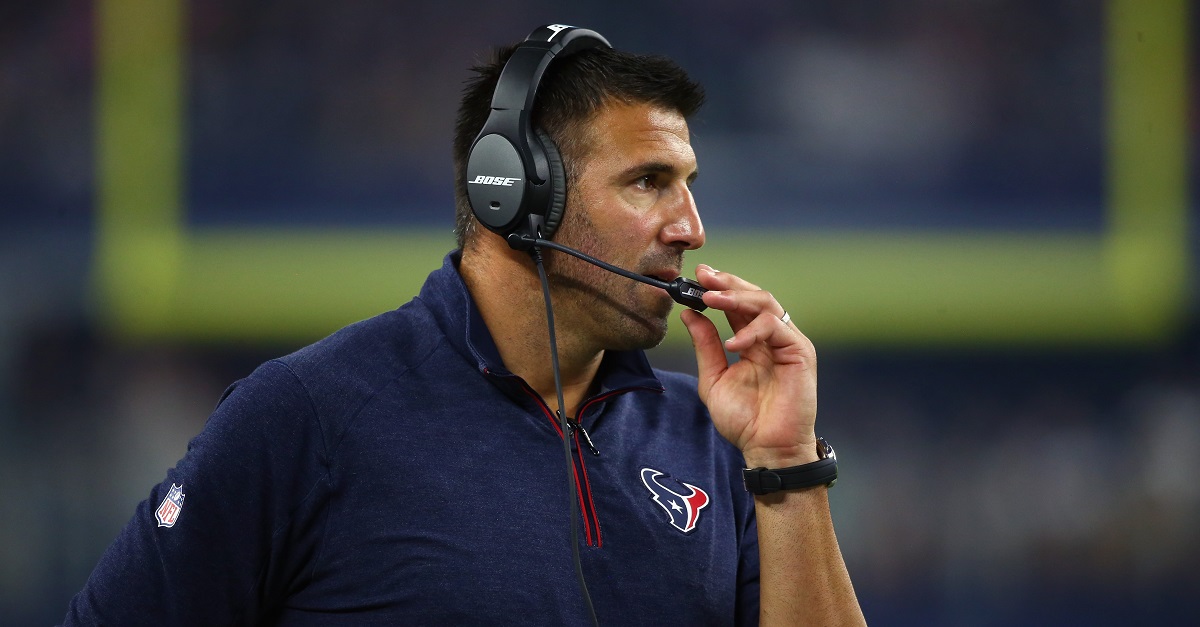 Ronald Martinez/Getty Images
ARLINGTON, TX - SEPTEMBER 03: Assistant coach, Mike Vrabel of the Houston Texans during a preseason game on September 3, 2015 in Arlington, Texas. (Photo by Ronald Martinez/Getty Images)
NFL analyst and Sports Illustrated contributor Peter King is plugged in when it comes to NFL news and he has been hearing some surprise sentiments from front offices as several teams are searching for a new coach. The one name that has popped up a few times is Houston defensive coordinator Mike Vrabel. Most people would find that as a surprise considering he is a rookie coordinator and his particular unit struggled this year, even accounting for injuries to Whitney Mercilus and J.J. Watt.
I have heard four people from four different teams bring up Vrabel as a possible 2018 head coach, and certainly as someone whom teams will be interested in interviewing. Detroit GM Bob Quinn will interview him for the Lions? vacancy on Wednesday, and The MMQB?s Albert Breer says Indianapolis and Arizona could also be interested in talking to Vrabel about their openings.
While Vrabel has a good reputation as a former Bill Belichick player, he will have to account for his defense giving up almost a whole touchdown more this season than last season when he wasn't there. However, he could point to the offense being rough without Deshaun Watson as the quarterback, but that likely won't be enough justification for GMs asking him about it in interviews.
Despite all that though, King relays that he got some pretty bold and positive feedback on Vrabel after his one year as a coordinator. Here's what a current NFL coach with no ties to Vrabel told him.
?Of all the guys in this pool, the one I?d say who has the chance to be the best head coach is Vrabel. It?s his presence, and the people he?s been around and learned from.?
It remains to be seen what he might be able to do as a head coach, but his record as a defensive coordinator is not great so far. It might take a few more years for Vrabel to break in as a head coach, but it's just as possible that a desperate team looking for a huge change takes a chance on him and lets him run the show at age 42.