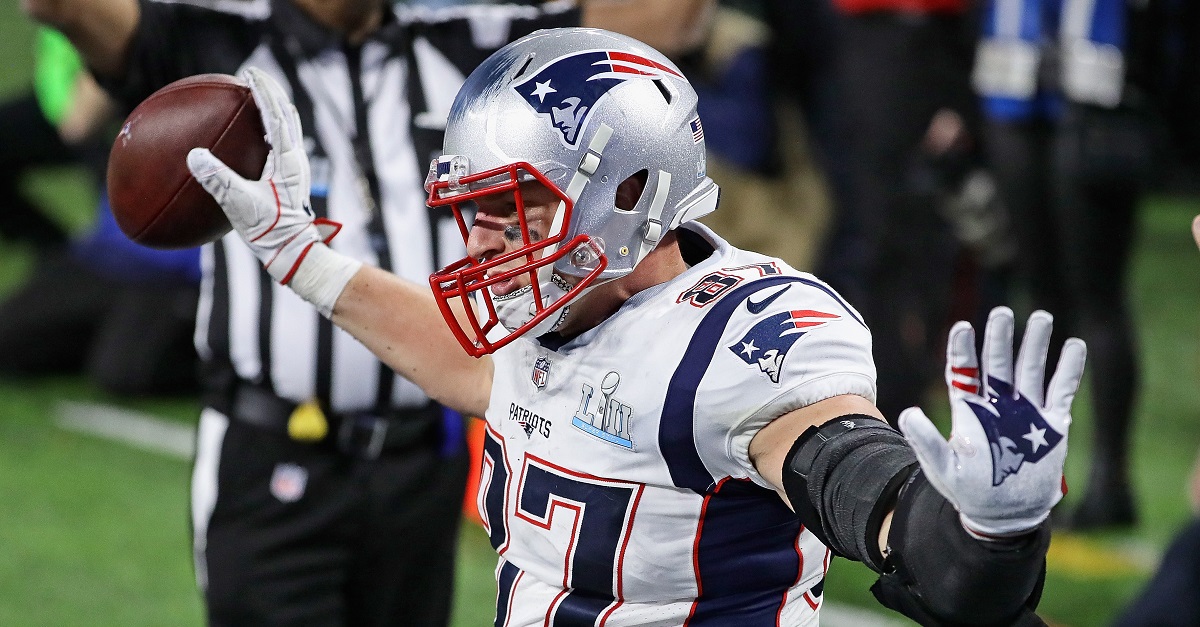 Jonathan Daniel/Getty Images
MINNEAPOLIS, MN - FEBRUARY 04: Rob Gronkowski #87 of the New England Patriots celebrates a touchdown reception against the Philadelphia Eagles in the fourth quarter of Super Bowl LII at U.S. Bank Stadium on February 4, 2018 in Minneapolis, Minnesota. The Eagles defeated the Patriots 41-33. (Photo by Jonathan Daniel/Getty Images)
After a loss in Super Bowl LII to the Philadelphia Eagles, rumors quickly circulated that New England Patriots tight end Rob Gronkowski was mulling retirement due to the damage that he had taken in the sport over the years.
Apparently this was not some fleeting thought from Gronkowski, as NBC Boston's Tom Curran reports that Gronkowski was considering retirement before the 2017 season even began.
From Curran, via Yardbarker:
"He seriously considered stepping away from the game in training camp [last season]," Curran said. "He had kind of had it. At that point his body wasn't responding. He wanted to train a certain way. The team didn't necessarily want him to train the way he wanted to train. They were at logger heads. He was pissed."
After an injury-plagued 2016 season that saw Gronkowski only play in eight games, the star tight end had a resurgent season in 2017, where he posted his fourth season with at least 1,000 receiving yards. However, Gronkowski did start to wear down towards the end of the season, and a concussion in the Playoffs nearly kept the tight end from playing in the Super Bowl.
As for what Gronkowski would do outside of the NFL, there have been rumors that he is interested in heading to the WWE. Gronkowski has already had one run-in with the WWE in the past, appearing at WrestleMania 33 in Orlando to help his friend Mojo Rawley win the Andre the Giant Memorial Battle Royal. Considering Gronkowski's size at 6-foot-6 and 265 pounds, he would be a towering presence in the ring with Vince McMahon's wrestling promotion.
Gronkowski, 28, has been one of the best tight ends in the history of pro football since he joined the league out of Arizona in 2010. In his eight seasons, Gronkowski has been named to five Pro Bowls while recording 7,179 receiving yards and 76 touchdowns.