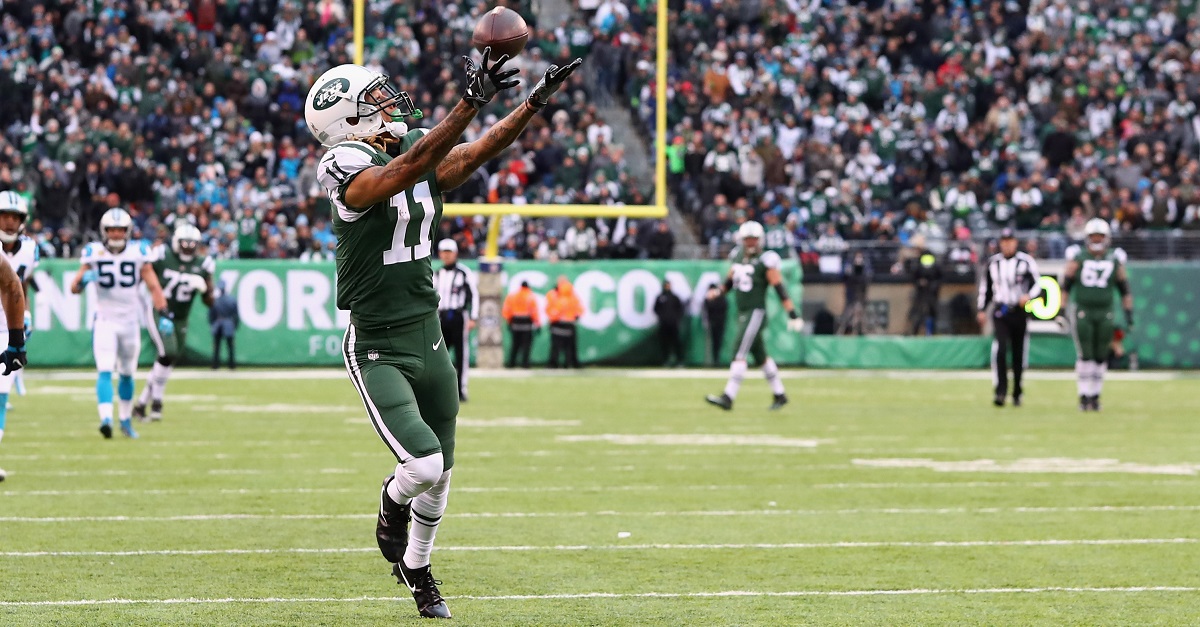 Al Bello/Getty Images
EAST RUTHERFORD, NJ - NOVEMBER 26: Wide receiver Robby Anderson #11 of the New York Jets reaches for a catch which lead to a touchdown during the third quarter of the game at MetLife Stadium on November 26, 2017 in East Rutherford, New Jersey. (Photo by Al Bello/Getty Images)
New York Jets wide receiver Robby Anderson was reportedly arrested early Friday morning on nine different charges after allegedly fleeing from police driving 105 mph in a 45-mph zone.
According to the police report, Anderson then apparently threatened to sexually assault the arresting police officer's wife after Anderson was placed into the back of the police vehicle. The police report also indicated that Anderson continued to threaten the police officer and he was even "brace, tense and refused" to enter the police vehicle.
"We are aware of the situation," a Jets spokesman said. "This is a pending legal matter and we will have no further comment."
Anderson is facing the following charges, including two felonies:
Resisting an officer/obstruction without violence; harm to a public servant or family; fleeing/eluding while lights/siren active; reckless driving; failure to drive in a single lane; two counts of disobeying/avoiding a red light; speeding; and turning without a signal.
Anderson was also arrested back in May after he allegedly tried to fight security after he was asked to leave the Rolling Loud Festival in Miami. He is facing felony charges of resisting arrest with violence and obstruction of justice.
Anderson, a second-year player from Temple, caught 63 passes this season for 941 yards and seven touchdowns.