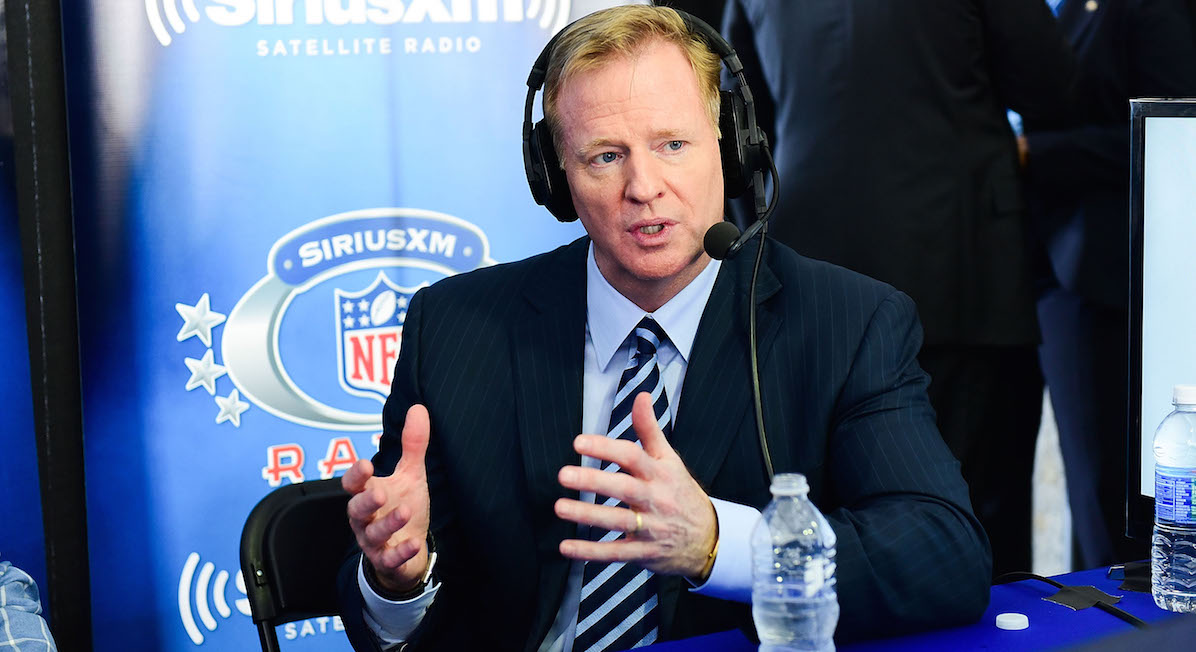 Lisa Lake/Getty Images for SiriusXM
PHILADELPHIA, PA - APRIL 27: Commissioner of the National Football League, Roger Goodell visits SiriusXM NFL Radio during the first round of the 2017 NFL Draft at Philadelphia Museum of Art on April 27, 2017 in Philadelphia, Pennsylvania. (Photo by Lisa Lake/Getty Images for SiriusXM)
With less than two months remaining until his long anticipated appearance in Foxborough, NFL Commissioner Roger Goodell is reportedly still holding a grudge against the New England Patriots.
According to Pro Football Talk's league sources, Goodell continues to be miffed about Patriots defensive coordinator Matt Patricia wearing a Barstool Sports t-shirt featuring the Commissioner with-a-clown-nose while stepping off the plane that brought the team back after its Super Bowl LI victory in February.
Looks like Matt Patricia is wearing a Goodell clown shirt as the team arrives back in Boston pic.twitter.com/YK8OPZ4Hoh

? Nick Emmons TV (@nicknbcboston) February 6, 2017
//platform.twitter.com/widgets.js
Goodell will be in attendance during New England's season opener against the Kansas City Chiefs at Gillette Stadium on Sept. 7, marking his first appearance in Foxborough in over two years.
Goodell's last appearance at the stadium took place in January 2015 when Deflategate started. In May 2015, Patriots quarterback Tom Brady received his eventual four-game suspension for the first time and the Commissioner immediately became a villain to the team's fan base.
During the playoffs, Goodell attended the NFC divisional playoff game in Atlanta, which led many to speculate whether he would appear in Foxborough the following week for the AFC title game. Instead, he attended the Falcons' NFC Championship victory at the Georgia Dome for the second consecutive week.
Following his decision to forego the AFC Championship Game, New England fans felt that Goodell was purposely avoiding Gillette Stadium because he was afraid to step foot in the stadium.
During an interview in February, Pro Bowl tight end Rob Gronkowski added to the speculation, claiming Goodell was hated so much in New England that he wouldn't "even be able to land at the airport."
?He couldn?t even get to the stadium in Foxborough if he landed in Boston,? Gronkowski said.