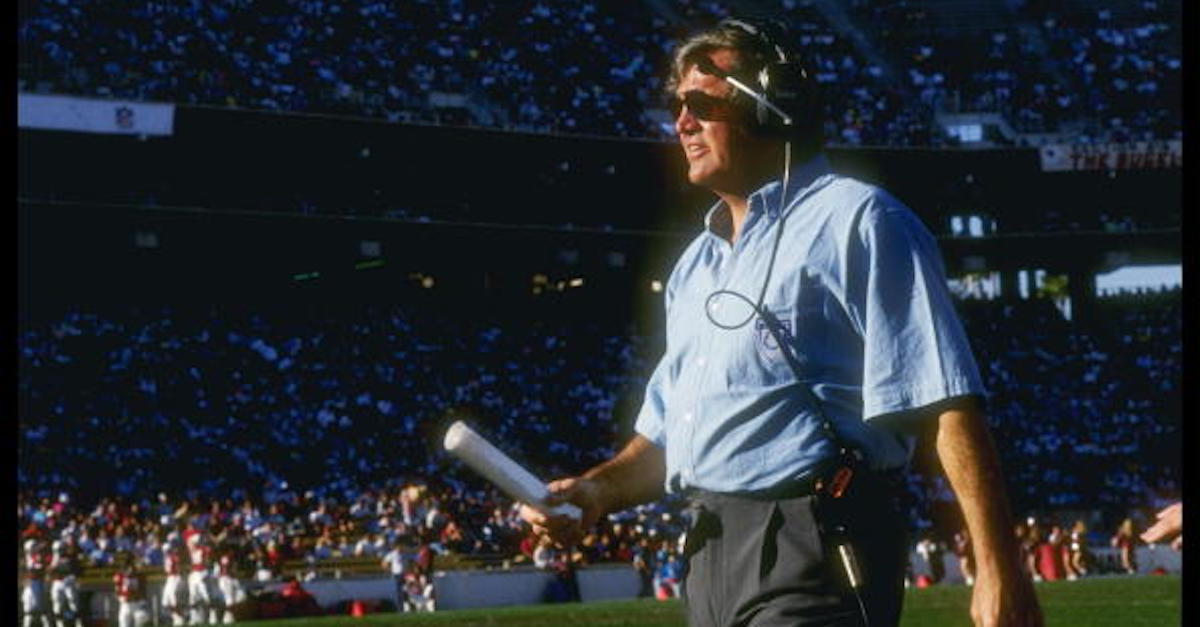 Stephen Dunn/Allsport
2 Dec 1990: Ron Meyer, head coach of the Indianapolis Colts, watches from the sidelines during a game against the Arizona Cardinals at Sun Devil Stadium in Tempe, Arizona. The Cardinals won the game, 20-17. Mandatory Credit: Stephen Dunn /Allsport
Former New England Patriots head coach Ron Meyer has died at the age of 76, according to reports.
Meyer, who spent nine seasons as an NFL head coach, three with the Patriots and six with the Indianapolis Colts, was known as a controversial figure of sorts — specifically known for a time he used a snowplow to give the Patriots an advantage over Don Shula and the Miami Dolphins.
NBC Sports Boston relays that story below:
Hired by the Patriots to replace Ron Erhardt after New England went 2-14 in 1981, Meyer led the Pats to the AFC playoffs in '82 with a 5-4 record during a strike-shortened season. That was the year Meyer directed Mark Henderson, on work release from prison, to take his snowplow on the field and clear a spot for kicker John Smith on a field-goal attempt during a snowstorm at what was then known as Schaefer Stadium in Foxboro. Smith hit the kick and gave the Patriots a 3-0 victory over the eventual AFC champion Dolphins, much to the fury of Miami coach Don Shula. Shula railed against Meyer's lack of sportsmanship and later, when after finishing his career with 347 victories, would always claim he "really" won 348, discounting the game which came to be known as the Snowplow Game.
Meyer was eventually fired by the Patriots after alienating many of his players and firing defensive coordinator Rod Rust despite not having the authority to make the move. That led to then-Patriots general manager firing Meyer, hiring another coach and reinstating Rust, a story that ultimately ended with the controversial coach coaching in Indianapolis.
He went 18-15 in two seasons with the Patriots. Meyer was a bit better with the Colts — either that or he was just around longer — leading the franchise to a 36-35 mark in six seasons before being fired after a 0-5 start in 1991.
Meyer also had stints as the head coach at UNLV and SMU. Meyer's 1981 SMU team went 10-1 that season, and finished No. 5 in the nation before Meyer jumped to the pros.