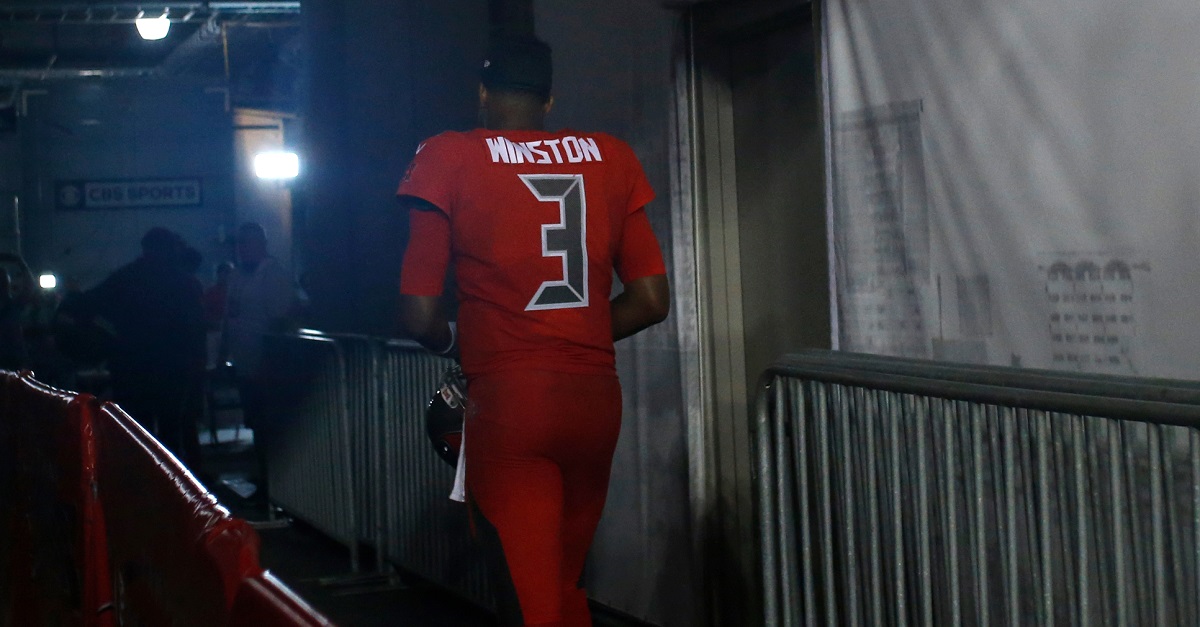 Brian Blanco/Getty Images
TAMPA, FL - OCTOBER 5: Quarterback Jameis Winston #3 of the Tampa Bay Buccaneers makes his way off the field following the Bucs' loss to the New England Patriots at an NFL football game on October 5, 2017 at Raymond James Stadium in Tampa, Florida. (Photo by Brian Blanco/Getty Images)
Philadelphia Eagles defensive back Ronald Darby has officially come to the defense of the embattled Jameis Winston.
Allegations against Winston arose earlier this week when it was reported that the NFL was looking into an incident with an Uber driver from March of 2016. The driver accused Winston of making inappropriate contact with her during the ride, which Winston has since refuted.
Darby is supporting Winston's side of the story, saying that he was with Winston during the ride and that Winston did "nothing inappropriate".
Via ESPN:
"I felt the need to come forward and clarify some inaccurate accounts of the evening of March 13, 2016 when myself, a friend and Jameis Winston took an Uber ride in Arizona. There were three of us in the car, not just one as has been reported. Myself and Jameis were in the backseat. I am confident that nothing inappropriate in nature happened in the car that evening and Jameis did not have any physical contact with the Uber driver. The accusations are just not true."
According to BuzzFeed News, the NFL opened their investigation on Thursday after being informed of the allegations.
From BuzzFeed:
A letter, viewed by BuzzFeed News, was sent from the NFL's special counsel for investigations, Lisa Friel, to the Uber driver on Thursday. "The League has been informed that you may have been the victim of such a violation perpetrated by Tampa Bay Buccaneers player Jameis Winston. The league takes allegations of this nature very seriously and has opened an investigation into this matter," the letter read.
The BuzzFeed report details an alleged incident from March 13, 2016, where the Uber driver claims that Winston was behaving poorly in the back of her car before being asked to stop for food. During the stop, the driver claims that Winston "reached over and he just grabbed my crotch."
Winston was also accused of sexual assault back when he was the quarterback at Florida State. Winston was cleared in that case.