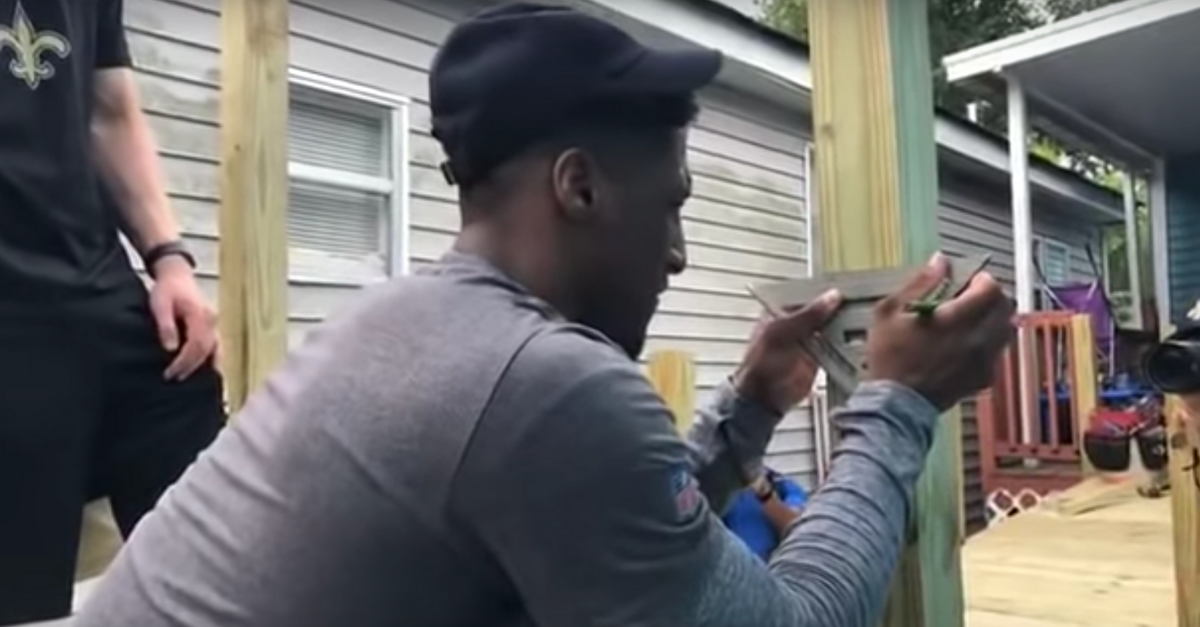 YouTube
By now, everyone should know the New Orleans Saints are a huge part of their community in addition to winning a lot of football games. From the owner on down to the punter, so many players in the organization have stepped up to assist those in need. They did it once again earlier this week.
Jerry Hills lost his left leg due to a bacterial infection three years ago, according to NOLA.com. A ramp was needed at his house so he wouldn?t have to hop down or crawl up the steps any longer. So he reached out to a woman named Nikki Williams at Rebuilding Together New Orleans to set it all in motion.
That?s when several Saints players and employees of Dudley DeBosier Injury Lawyers volunteered to build a ramp at Jerry and Doreen Hills? house in the St. Roch neighborhood in Louisiana.
RELATED: Saints Running Back Alvin Kamara Should Be Your New Favorite NFL Player After This
According to NOLA.com, Saints players Michael Thomas, Cameron Jordan, Marcus Davenport, David Onyemata, Zach Line, Taylor Stallworth, Keith Kirkwood, Darnell Sankey and Zach Wood all showed up to help Hills build an ADA wheelchair ramp outside.
?Having this ramp is a great feeling,? Hills said. ?To see so many people that care about you, it?s great. It?s really great.?
So much can be said about lucrative NFL contracts like the one Seattle Seahawks quarterback Russell Wilson just got, and the infamous national anthem protests, but this is truly what it?s all about. These football players taking time out of their schedule to help a disabled man is special.
Sure, a lot of teams judge the New Orleans Saints on wins and losses and whether or not they make the Super Bowl, but watching Saints players help out here far outweighs any game.