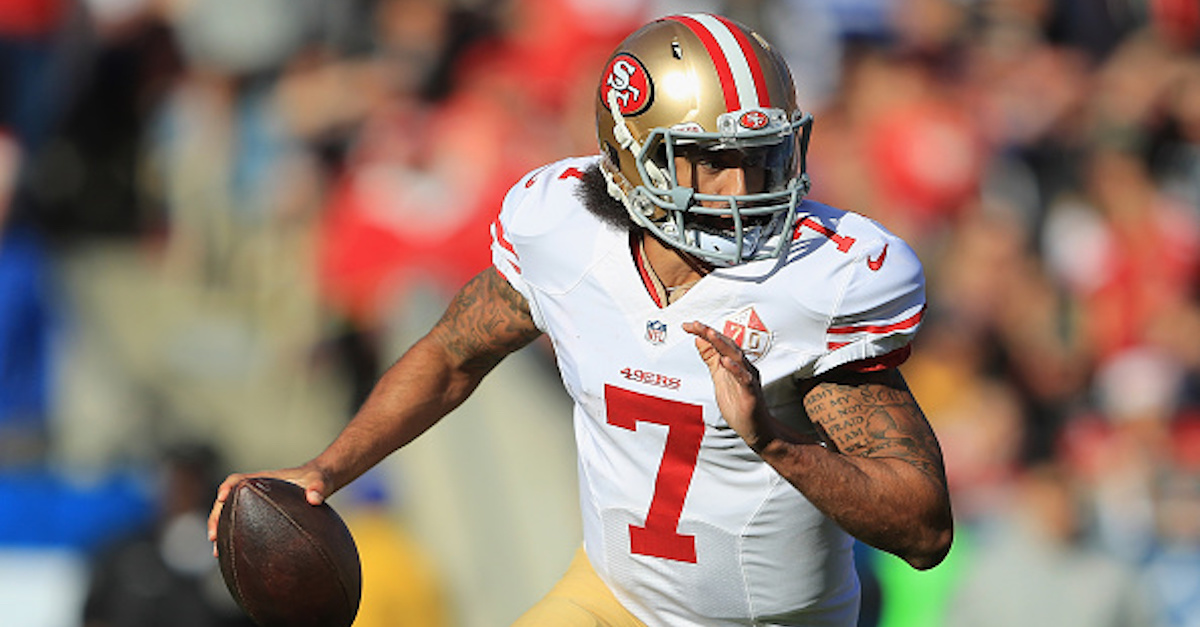 Sean M. Haffey/Getty Images
LOS ANGELES, CA - DECEMBER 24: Colin Kaepernick #7 of the San Francisco 49ers scrambles during the first half against the Los Angeles Rams at Los Angeles Memorial Coliseum on December 24, 2016 in Los Angeles, California. (Photo by Sean M. Haffey/Getty Images)
Colin Kaepernick still hasn't been signed to an NFL squad, this despite the fact that there are plenty of teams out there who could use a solid backup quarterback — if not a straight-up starter.
Sure, Kaepernick doesn't have anywhere near the level of talent he once possessed — when he led the San Francisco 49ers to the Super Bowl — but he's still an athletic and experienced quarterback. It seems that if not for his role as the originator of the national anthem protests, there would have been plenty of teams willing to take a chance on him this season.
That hasn't been the case, likely due to his protests, but one former NFLer, Shawne Merriman, still seems to think there's a chance for Kaep — specifically with the Houston Texans.
Here's what the former San Diego Chargers' great said, according to TMZ (as passed on by TheSpun):
?I know [Texans head coach Bill O'Brien]'s about that life. He?ll do it,? Merriman told TMZ Sports. ?If he?s still the same person ? 85-90 percent Colin will be in Houston.?
Houston recently lost starting quarterback and 12th overall pick Deshaun Watson to an ACL injury for the season and heading into the second half of the season with Tom Savage and Josh Johnson as the No. 1 and No. 2 options respectively may seem like a fine idea right now — but it may not be the best duo for the Texans if the team does plan on making a playoff push.
Currently 3-5 and on a two-game losing streak the Texans may need to make a drastic move soon, and that move could be signing the controversial signal-caller out of Nevada.