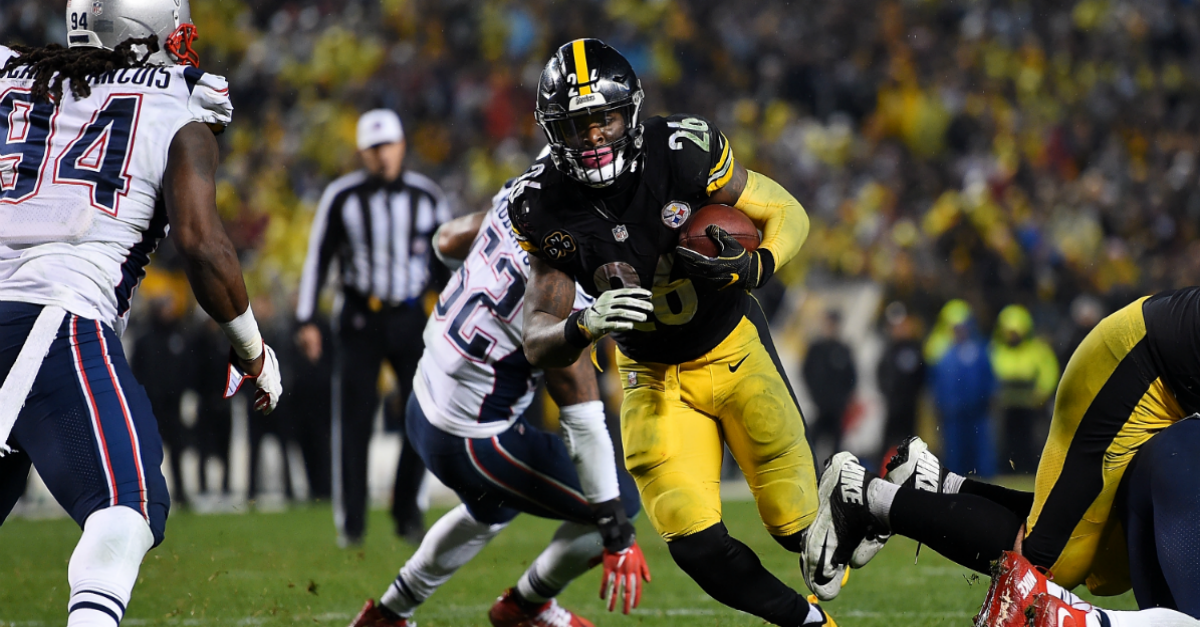 Joe Sargent/Getty Images
PITTSBURGH, PA - DECEMBER 17: Le'Veon Bell #26 of the Pittsburgh Steelers rushes the ball for a 3 yard touchdown in the third quarter during the game against the New England Patriots at Heinz Field on December 17, 2017 in Pittsburgh, Pennsylvania. (Photo by Joe Sargent/Getty Images)
The Pittsburgh Steelers and Le'Veon Bell may as well be headlining the WWE Royal Rumble. After the player claimed he would rather retire than be subjected to yet another franchise tag from the franchise, the Steelers are apparently not going to let that deter them from putting the tag on him.
As Rapoport points out in the above clip, Pittsburgh's history is that of a NFL franchise unwilling to cave to threats from players. So, yeah, the franchise tag is coming no matter what Bell says.
This week, Jeremy Fowler of ESPN caught up with Bell, who indicated that he ?definitely consider? retirement if the Steelers chose to place the franchise tag on him for the 2018 season. Per that report, Bell would be paid approximately $14.5 million for one season under that scenario but, without long-term security, it wouldn?t be enough.
In fact, Bell said this about what the Steelers could do:
?Just get the numbers straight, exactly where we want them. I?m not going to settle for anything. Know what I do and what I bring to the table. I?m not going out here getting the ball 400 times if I?m not getting what I feel I?m valued at.?
It appears as though the Steelers are not allowing whatever Bell says — to the public or behind closed doors — dictate their next move.
This is a story still developing and very much worth monitoring.