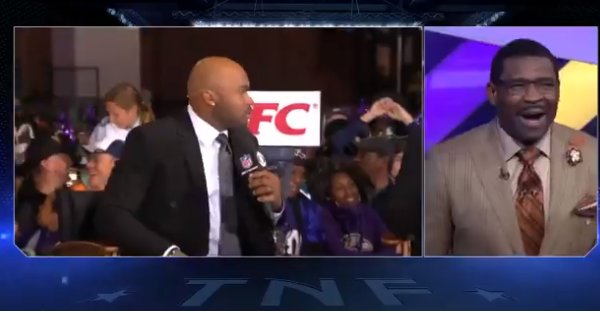 @TheCheckdown/Screenshot
@TheCheckdown/Screenshot
Former wide receiver Steve Smith is transitioning from life after the NFL to life as an analyst for the NFL Network. After 16 seasons in the NFL, Smith officially announced his retirement earlier this year.
He caught 1,031 passes during his career and finished with 14,731 yards after playing with the Carolina Panthers and Baltimore Ravens. Smith also built a reputation in the league as a player that was as tough as anyone and wouldn't back down from anyone. Viewers at home were reminded of that reputation as Smith appeared on the NFL Network's pre-game coverage prior to Thursday night's matchup between the Miami Dolphins and Baltimore Ravens.
See the exchange between Smith and Michael Irvin:
Smith wasn't having any of Irvin's playful shots regarding his choice of pants for the occasion. While host Amber Theoharis and analyst Marshall Faulk were joking and laughing at the exchange, Smith looked to be dead-serious. For those that may remember, Smith was once suspended by the Panthers following an altercation that left a teammate with a fractured orbital bone.
Irvin better watch himself around Smith during future shows.