For two weeks people have talked about anything and everything related to Super Bowl LVII. From the teams to the coin toss to the pre-game and halftime performers to the commercials, but a new talking point seems to be dominating the broadcast as the second half kicked off: the field.
Super Bowl LVII Becomes Slippery Thanks to New Turf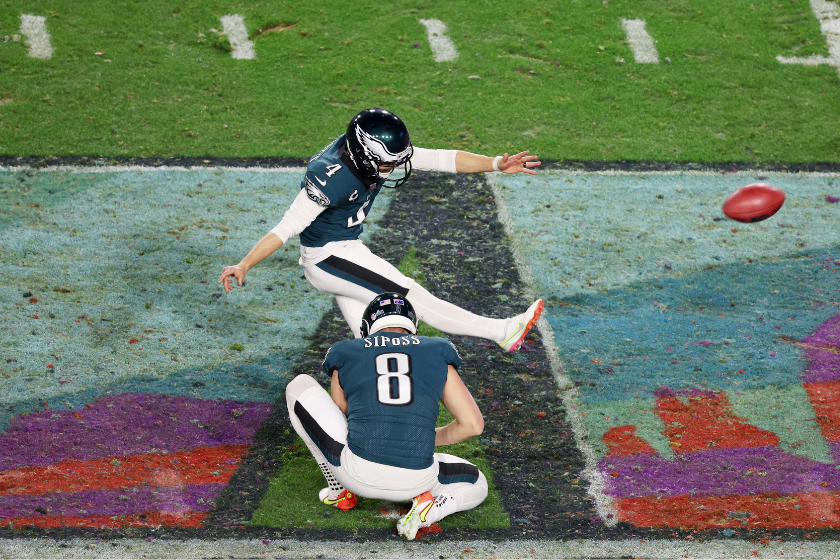 Even prior to kickoff, there had been concerns about the playing surface in Arizona. The NFL spent a lot of time and money getting ready for the game. It was only installed two weeks ago after being grown at a sod farm in Phoenix. They're using a new type of grass and based on what we've seen so far, it doesn't seem to be doing very well. The Kansas City Chiefs have reason to be concerned about playing here - even with the different grass. In Week 1, Kansas City faced the Arizona Cardinals and had multiple injuries occur - including to kicker Harrison Butker. Don't forget about Kyler Murray, who tore his ACL in Week 14 on this field as well.
The turf used at State Farm Stadium is Tahoma 31. Tahoma 31 is a new hybrid made from two types of Bermuda grasses and rye grass, originally developed at Oklahoma State University and monitored by Dr. Yanqi Wu who began growing it in 2006. The Super Bowl LVII turf was grown at West Coast Turf located 45 miles east of the State Farm Stadium. But still, the issues appear to be rampant. State Farm Stadium is looking like FedEx Field.
During the halftime show, Terry Bradshaw pointed out that Jalen Hurts had changed cleats in the first half, noting that the length of the spikes had gone from 1/2 an inch to a 3/4 inch cleat. Of course, Rihanna and her dancers only added to the worsening conditions, not to mention the stages that were wheeled on and off for the performance. There were dozens of folks out on the field after the halftime show picking up chunks of field that had been shredded.
Interestingly, the footing only seems to be impacting the Eagles, at least when it comes to footwear. Tom Rinaldi noted during his report that half the Eagles players had changed their cleats, yet apparently, none of the Chiefs have done so. While there haven't been any injuries of note, you have to wonder if the quickly deteriorating field may end up being one of the biggest storylines, for all the wrong reasons.
Enjoy all things sports?
Don't miss a story! Sign up for daily stories delivered to your inbox.