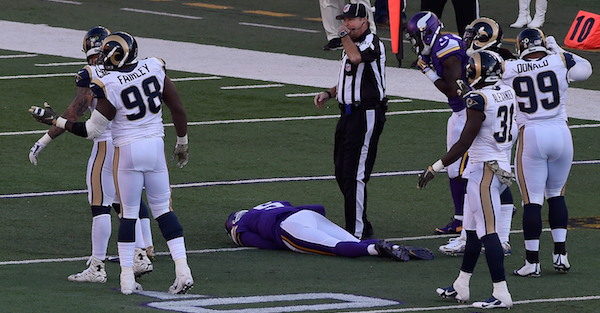 Hannah Foslien/Getty Images
MINNEAPOLIS, MN - NOVEMBER 8: Teddy Bridgewater #5 of the Minnesota Vikings lays on the field after a hit by Lamarcus Joyner #20 of the St. Louis Rams during the fourth quarter of the game on November 8, 2015 at TCF Bank Stadium in Minneapolis, Minnesota. The Vikings defeated the Rams 21-18 in overtime. (Photo by Hannah Foslien/Getty Images)
Teddy Bridgewater is reportedly back on the road to playing football again, and he could be back sooner rather than later.
Bridgewater has apparently recovered enough from his serious knee injury at this point to get himself back onto the field. The official timeline of his return is still up in the air, but there's reportedly good news for Vikings fans. At the very least, it appears that the former first round pick may be cleared to practice.
That's according to Ryan Boser, who's a bit of an unknown reporting wise. He does have a lot of Twitters followers, though (which I get, means very little), and in 2013 he wrote for Bleacher Report, so take this all with a huge grain of salt.
The most credible part of this rumor comes from Vikings writer Yinka Ayinde, though again, it's not like he's known for his massive reporting chops. Still, it does make sense that if the Vikings were to make a big announcement this week, that Bridgewater would be the subject.
The timetable of his recovery fits and, of course, there is this from Star Tribune Viking beat writer Ben Goessling:
The pieces seem to be adding up, though if you're holding your breath for this announcement I may advise waiting a bit for the Adam Schefters of the world to start jumping on the bait.
If this is indeed true, it's huge news for Minnesota. Sam Bradford had a bit of a career resurgence last season for the Vikings and he could hypothetically keep them in the NFC North race again this season, but without a doubt, Bridgewater is the player most fans are excited about.
Before suffering a gruesome knee injury last August that took him out for the whole 2016 season and up until this point, he appeared to be trending in a positive direction for Minnesota. Aaron Rodgers he's not and will likely never be, but in his first two NFL seasons, he threw for 6,150 yards and 28 touchdowns with 21 interceptions. Bridgewater's interceptions went down from 12 in 2014 to nine in 2015, so the potential is there.
Now we have to wait and see if these rumors are true.