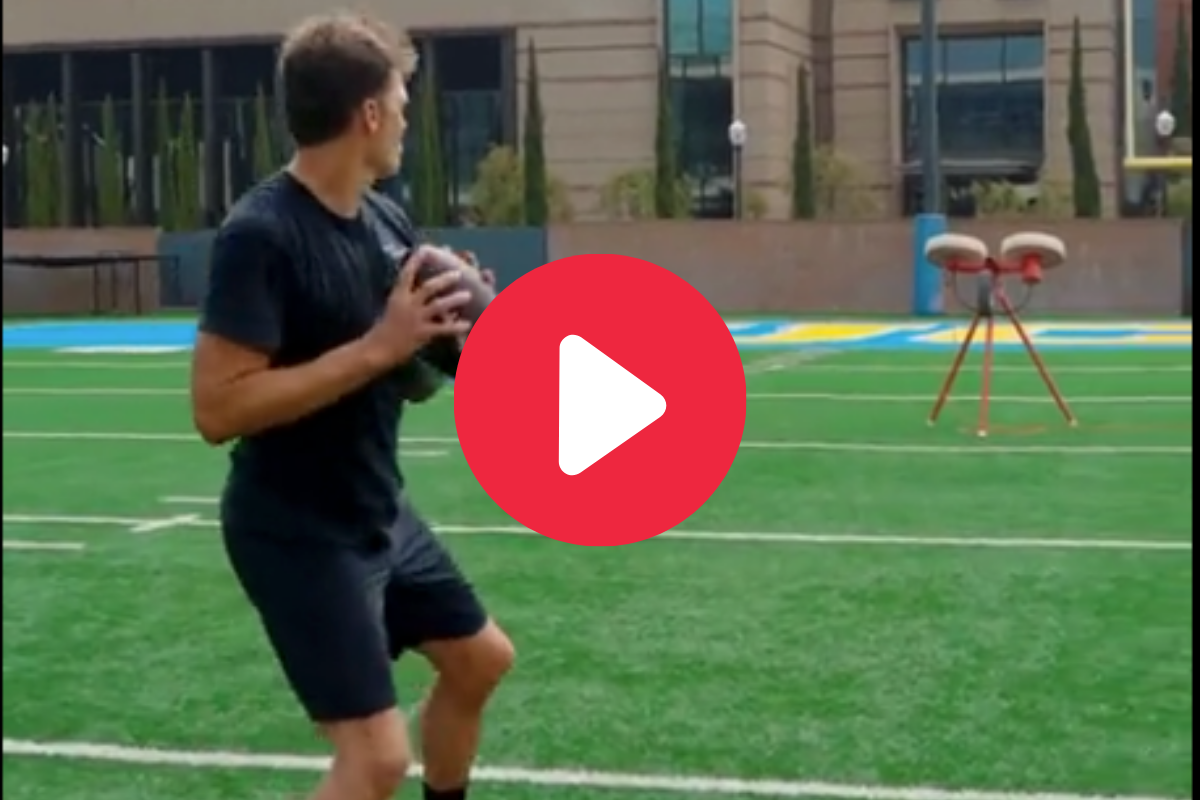 Screenshot from Twitter
Tom Brady is a wizard on the football field.
For one, the Tampa Bay Buccaneers quarterback is going on his 22nd year in the NFL. He's been in the league as long as rookies have been alive. Two, he's won seven Super Bowl rings and put all doubts of being a system QB to rest when he won with the Bucs this past year.
Simply put, the guy is undoubtedly the GOAT and it wouldn't be surprising if he played until he's 50.
Brady has found a groove on the social media train over the past year or so. His latest trending video features a friendly game of catch with a jugs machine.
Tom Brady Throw Ball Into Jugs Machine in Viral Video
RELATED: Tom Brady & Gisele Bündchen First Met on a Blind Date
There are no days off in Tom Brady's world. The day he misses a workout or doesn't drink 500 gallons of water is the day hell freezes over.
Tom and the Buccaneers visited the White House last week to celebrate their Super Bowl LV win last season and kicked off training camp on July 25 in Tampa, Florida. He spent the last few days of the offseason by preparing with a jugs machine.
He laces a throw perfectly into the foot-wide gap between the two wheels. He rips another one in the exact spot. The three-time NFL MVP ups the ante. He steps back 10 yards to rocket another strike with so much force that it knocks the machine over. It spits up the ball on its way down.
Brady ends it with his trademarked "Let's Go!"
"Training camp starts this week. I?m looking forward to having some actual receivers again?" Brady wrote in the caption.
The video, in addition to creating excitement for the upcoming NFL season, went viral. It garnered more than 40,000 retweets and another nine million views on Twitter. It has also stirred debate among internet sports fans, because they can't tell if it's for real.
Is Tom Brady's Viral Video Real?
We know Brady is capable of a lot of things on the gridiron. If there's anyone who can be the first person on Earth to play catch with the Jugs machine, it's none other than TB12.
That being said, many fans want to know: is it real?
Well, Brady tagged videographer Ari Fararooy in the post on Instagram. Fararooy identified himself as the director/visual effects guy for the video. Creative studio Warm & Fuzzy handled the computer-generated imagery and Brady's off-the-field organization, Shadow Lion, served as producer for the video.
I'm seeing three credits for a simple video of pitch and catch. Do we really need a visual effects guy around if the video is legit? Regardless, Tom Brady's social media team deserves a raise for this one.
The jury is still out on whether the video is real or not (it's totally fake). I feel comfortable in saying unless Ali Fararooy is making a career move from videos to NFL wide receiver, it's as real as a play-action.
Real or not (again, fake) I love seeing Tom prove he's still got it. Now, it's Green Bay Packers quarterback Aaron Rodgers or Houston Texans quarterback Deshaun Watson's job to recreate this viral video. No CGI, though, Aaron.