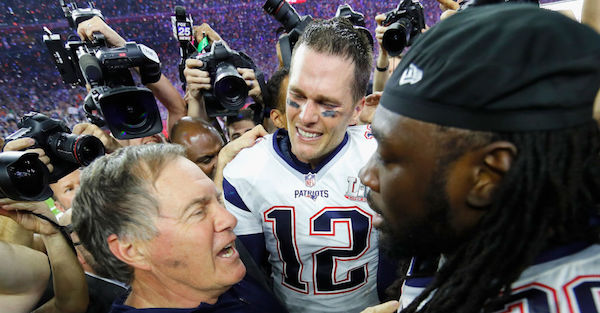 Kevin C. Cox/Getty Images
HOUSTON, TX - FEBRUARY 05: Head coach Bill Belichick, Tom Brady #12 and LeGarrette Blount #29 of the New England Patriots celebrate after defeating the Atlanta Falcons during Super Bowl 51 at NRG Stadium on February 5, 2017 in Houston, Texas. The Patriots defeated the Falcons 34-28. (Photo by Kevin C. Cox/Getty Images)
With rumors swirling just hours ahead of the Super Bowl on Bill Belichick and Tom Brady's respective NFL futures, the veteran New England Patriots quarterback made it clear he is coming back for another season.
"You're gonna see me playing football next year," Brady said, per ESPN. "I don't envision not playing. You're at the end of the race but you've got your biggest mountain to climb right at the end. Hopefully all the lessons we've learned have allowed us to be at our very best for this moment and that's what it's going to take and that's what we're prepared for and that's what I go out and expect our team to do."
For Brady, after embarking on winning his sixth Lombardi Trophy, the quarterback will come back for his 19th season.
Brady's wife likely won't be happy after reportedly attempting to get him to consider retirement after last season. We'll see if the same goes for Belichick.