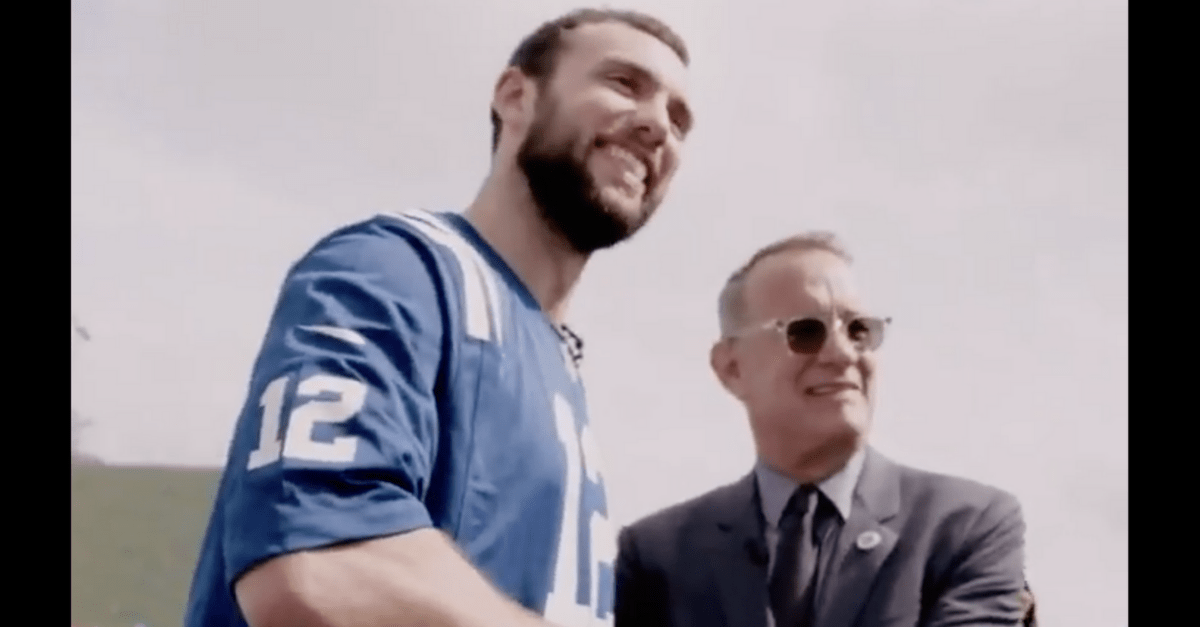 Twitter: Indianapolis Colts
Indianapolis Colts quarterback Andrew Luck is one of the best players in the NFL, making four Pro Bowls so far in his career. Actor Tom Hanks is one of the most popular film stars ever, winning four Golden Globe Awards and two Academy Awards to name a few. So what would happen if the two ever crossed paths and finally met? Well, thankfully, we now know.
At an event at The Children?s Museum of Indianapolis, the Colts quarterback and famed voice of Woody from Toy Story linked up for the first time a quick chat about life.
Turns out, the 62-year-old Hanks is a big fan of Luck, the NFL Comeback Player of the Year in 2018. The feelings were certainly mutual, too, and it was all captured on social media.
RELATED: Before He Won Oscars, Mahershala Ali Was a Tough-Nosed College Basketball Player
Both Luck and Hanks have an admiration for the Indiana capital city, and each likes to stay away from the gossip of social media, but the actor needed to pick the football star?s brain a little more.
?How often have you suffered because of your last name?? Hanks asked.
?It goes both ways,? Luck responded while laughing.
Luck points out that most professional athletes get made fun of for everything, so the awkward ?Do you get made fun of a lot?? kind of question seemed like a walk in the park.
It was all in good spirits, though. The two seemed very happy to meet each other, even if it was just for a few minutes.
Luck is coming off a sensational 2018 season where he started all 16 regular-season games, completing 67.3 percent of his passes for 4,593 yards with 39 touchdowns and 15 interceptions. The Indianapolis Colts QB also led his team to the NFL Playoffs, defeating the Houston Texans before losing to the Kansas City Chiefs.