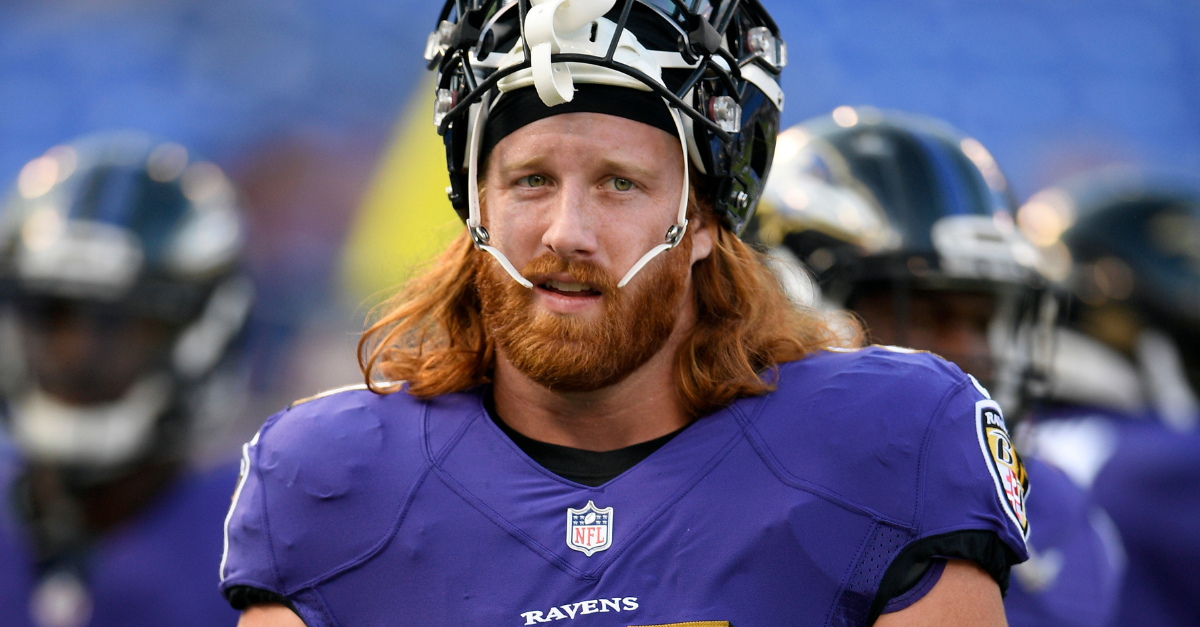 AP Photo/Nick Wass
Social media changed the way our society interacts with each other in less than two decades. You remember Myspace, right? That ancient social network founded in 2003 gave us the ability to connect with anyone who had Internet access anywhere in the world. In the Facebook, Twitter, Instagram and Snapchat times of today, you could send me a message right now and have a full-blown conversation without us ever meeting face-to-face.
More importantly, though, social media creates relationships. This new generation doesn't even try to walk up to someone and (gasp!) actually ask them out anymore. All they have to do is "shoot their shot" online and hope for the best, just like Baltimore Ravens tight end Hayden Hurst is doing in the hopes of finding his dream girl.
In a recent tweet, the first-round pick in the 2018 NFL Draft out of South Carolina revealed that a trip to the Baltimore airport was anything but average . A "gorgeous tall brunette" caught the second-year tight end's eye, but he wasn't able to make a move on her.
So, in a classic I'm-too-afraid-to-say-anything-so-I'll-just-tweet-about-it-later move, the 25-year-old set out on a mission to find his one true love using the power of social media.
"To the gorgeous tall brunette on my flight to Baltimore. You walk incredibly fast and I couldn?t catch up but here?s hoping you have Twitter #theonethatgotaway"

? Hayden Hurst via Twitter
RELATED: Take It from Pro Athletes: What You Say on Social Media Lives Forever
Look. Hayden Hurst ran a 4.67 40-yard dash at the NFL Combine. At 6-foot-4 and 250 pounds, there's no way anyone in that airport could have gotten in his way if he wanted to track this mystery woman down.
Now, Hurst did miss the start of his rookie season last year with a stress fracture in his foot, but returned to catch his first career touchdown from Lamar Jackson in a loss to Carolina. The 25th-overall pick split time on a crowded depth chart alongside Maxx Williams, Nick Boyle and Mark Andrews last year. Maybe he's not back up to full speed just yet in the offseason?
But I don't care if this girl is a world-champion race walker. She's not getting away from an NFL player if he REALLY tried to catch her.
Over 180 responses to Hurst's tweet included everything from hilarious nicknames like "Hayden Thirst" to Nick Fitzgerald simply saying "Shooters shoot… I respect it." Sadly though, Hurst still hasn't found that woman as far as we know.
Statistic Brain tells us that 20 percent of all committed relationships start online and about 49 million people (and counting) have tried online dating. Tack one more onto the list of "people who tried" because a "gorgeous tall brunette on my flight to Baltimore" doesn't exactly narrow down Hurst's list of potential candidates.
Shooters shoot, and shoutout to Hurst for at least putting it out there that he's single and ready to mingle.