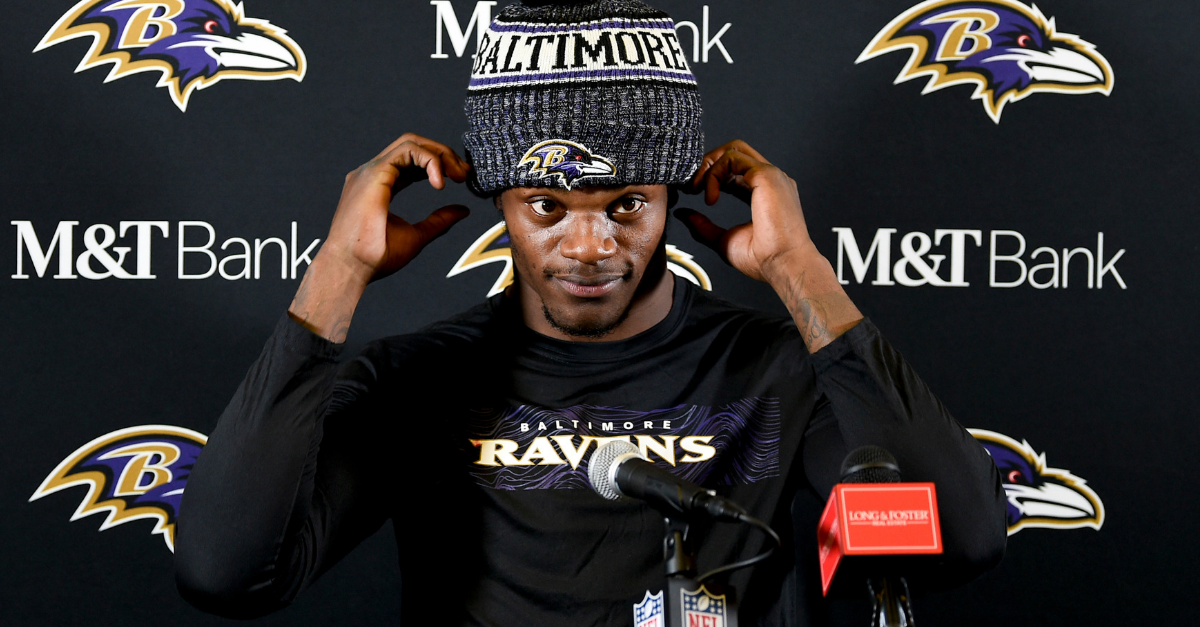 AP Photo/Kelvin Kuo
When the Baltimore Ravens traded Joe Flacco to the Denver Broncos earlier this offseason, the entire franchise dug its own grave and will certainly return to mediocrity this season. NFL free agency wasn?t too kind to head coach John Harbaugh?s team and now starting quarterback Lamar Jackson is literally driving him and the team insane.
The former Heisman Trophy winner from Louisville can certainly run well, but is already a liability throwing the football. He apparently is a liability behind the wheel of a car, too.
In his Instagram story, which was captured by TMZ Sports, the 6-foot-3 signal caller was somewhere driving his Mercedes-Benz on a sunny day and cruising at 105 miles per hour. That?s not too crazy because, look, we all have sped a little bit, right? The biggest issue is the 22-year-old Jackson was doing all of this while recording it on his cell phone and might have been without his seat belt on.
RELATED: This NFL Player Quit His Job While Smoking Weed Live on Instagram
It?s hard to be the fun police, especially in the offseason, but come on, man. It?s one thing to go joy riding ? although listening to B2K?s Bump, Bump, Bump at any point isn?t that enjoyable. It?s a completely different game when you do that, record how fast you are going on your phone, and show the fasten seatbelt light on the dash.
Lamar Jackson, the No. 32 overall pick in the 2018 NFL Draft should definitely know better, and the chance of him getting a phone call from the Baltimore Ravens organization is probably somewhere around 1,000 percent.
In 16 regular games as a rookie quarterback, Jackson completed just 58 percent of his passes for 1,201 yards with six touchdowns and three interceptions, while rushing for 695 yards and six more scores. He also racked up nearly 250 total yards and two touchdowns in the AFC Wild Card Game loss to the Los Angeles Chargers.
Needless to say, Baltimore is going to be counting on Lamar Jackson to not only get better on the field, but also to avoid doing dumb things off of it. This would definitely be a dumb thing for anyone to do, especially an NFL quarterback.
Driving over 100 mph without a seatbelt while recording it on your phone is a forgivable mistake, but Ravens quarterback Lamar Jackson is now the NFL?s most unsafe driver until further notice.
At least the team got Mark Ingram and Earl Thomas after losing Eric Weddle and Terrell Suggs this week, right?