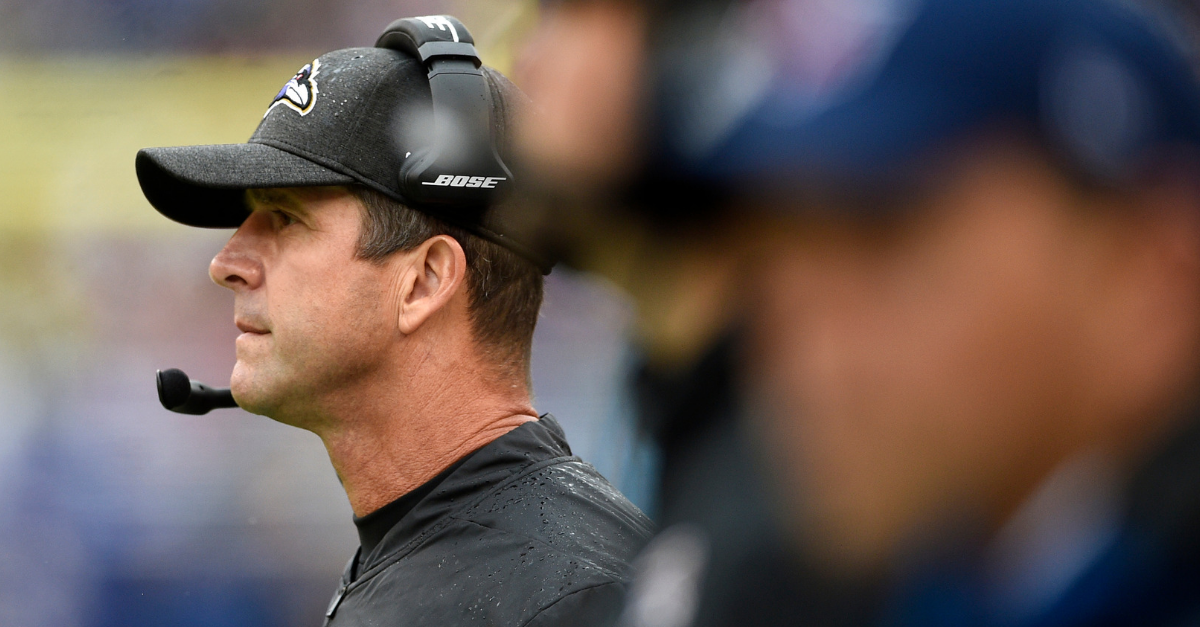 AP Photo/Nick Wass
With seven minutes remaining inside MT&T Bank Stadium, and the Baltimore Ravens clinging to a narrow fourth-quarter lead Sunday afternoon, the New Orleans Saints made a gutsy 4-and-1 call that proved to be clutch for the road team. It also came with quite a bit of controversy in the aftermath from the opposing head coach, too.
When Saints quarterback Drew Brees lunged and leaped forward, he was awarded a first down at the Ravens? 17-yard line. New Orleans eventually scored a touchdown five plays later to take the lead and ultimately won, 24-23, because Ravens kicker Justin Tucker missed his first-ever extra point attempt to the game.
But should this quarterback sneak have been ruled a first down since the ball crossed the marker? Or should Baltimore have taken over on downs with a 17-14 lead since Brees pulled the ball back? Ravens head coach John Harbaugh should have liked to know at the time, but couldn?t challenge the play.
RELATED: Lions Coach Matt Patricia Throws Red Challenge Flag About a Mile
No matter what the call would have been, Harbaugh ?absolutely? wanted to challenge the play before the go-ahead touchdown, but couldn?t because he used two challenges in the first half, winning the first and losing the second.
By rule, if a coach doesn?t win both challenges, a team will not receive a final challenge.
"You have to at least get close to the line of scrimmage," Harbaugh said on the team?s website. "It's not like you put the ball across the plane of a goal line. You can't put the ball across the plane of the first-down marker — it's got to be forward progress.
?Absolutely would've challenged that. The other thing: You'd like for them to get it right the first time — that would be the ideal thing.?
So what does Harbaugh want? Other than the referees getting the calls right, he believes the challenge rule should be changed.
"We've talked about that rule. The rule should be changed. You shouldn't have to win both challenges to get another challenge back. That's been talked about, and that's been just dismissed by the powers that be. Who knows why? Maybe they could explain it to you in some way that makes sense. But the other thing is, we never challenge unless we think we're going to win it clearly.? ? Baltimore Ravens head coach John Harbaugh
This isn?t the first time the challenge rule has been criticized, and it certainly won?t be the last. There is no telling whether or not this cost the Ravens the game, but sure made Harbaugh lose his cool.
Should the NFL change its policy, and just give one challenge back if they win it, or should they just double down on the original rule and never change?