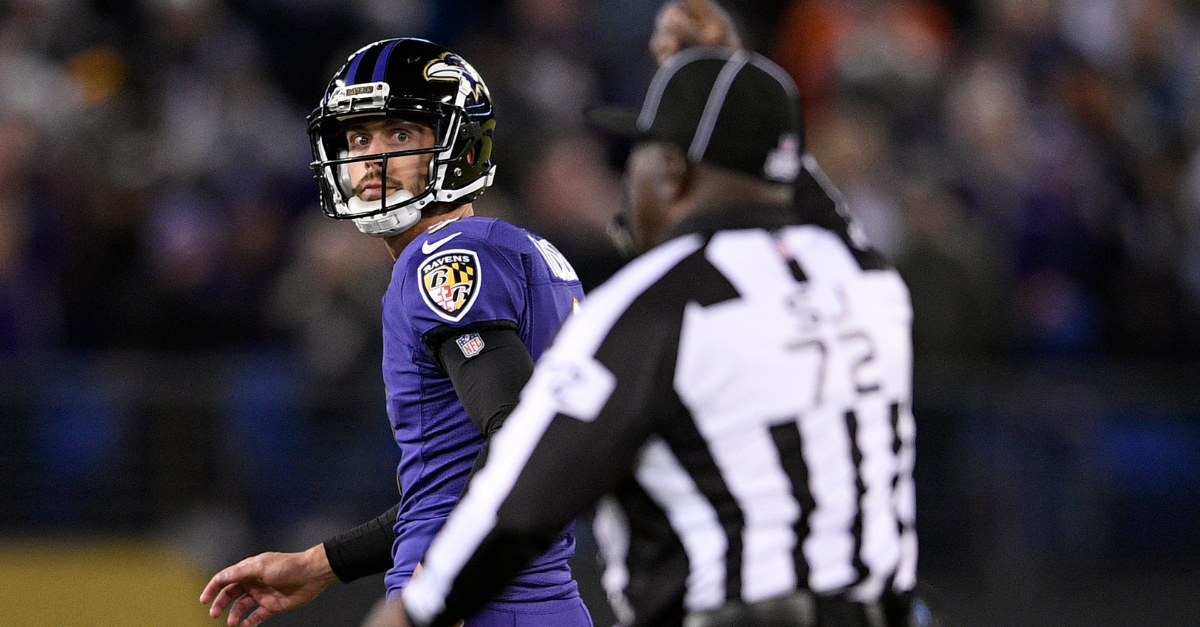 AP Photo/Nick Wass
They say all good things must come to an end, but Baltimore Ravens kicker Justin Tucker sure picked a rather awful time to snap one of his most incredible streaks. This is not how Sunday?s game was supposed to end for the NFL?s most accurate placekicker of all time.
After Ravens quarterback Joe Flacco orchestrated a brilliant fourth-quarter drive and found wide receiver John Brown in the end zone with 24 seconds left, all that was left was for Tucker to make the extra point to tie the game and perhaps force overtime, something the 6-foot-1 veteran did perfectly throughout his career.
Instead, Tucker, who had made all 222 point after attempts since signing with the team as an undrafted free agent in 2012, pushed the 33-yard extra point attempt to the right and the New Orleans Saints held on for a 24-23 victory at M&T Bank Stadium.
RELATED: A 92-Yard Field Goal? Redskins Kicker Cashes in on ESPN?s Mistake
The wind certainly played a factor, but career extra point No. 223 was an utter disaster in Tucker?s eyes.
?I feel like I cost us the game. Every single one of my teammates thus far has told me the opposite and no one play wins or loses a game, but that?s a tough thing to grapple with when you?re the guy in that situation at the end of the game.? ? Justin Tucker
An Austin, Texas native and University of Texas alum, the 28-year-old Tucker has been one of the best and probably most clutch kickers in NFL history, especially from that distance.
In addition to hitting all 222 PATs before that game-tying extra point miss, Tucker had nailed 116 of 118 field goals inside of 40 yards, too. This one just happened to get away from him.
This isn't the end of the world. It's not like this was the Super Bowl or even a playoff game. It was just shocking, and it came at a time in the game that is tough to forget.