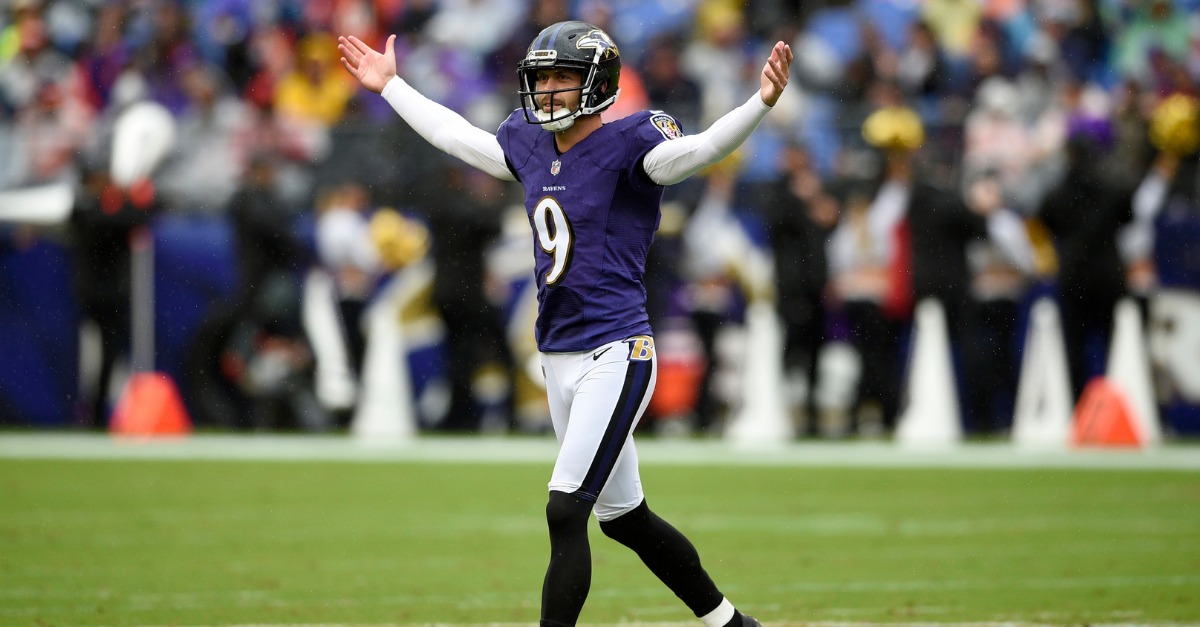 AP Photo/Nick Wass
In a sports world filled with insane contracts, whether it's Los Angeles Angels outfielder Mike Trout or Seattle Seahawks quarterback Russell Wilson, there's so much money to be earned if you are a professional athlete. Most of the high-profile positions are oftentimes rewarded, but it's safe to say the money is never really split equally.
One position that never gets enough credit or coin is an NFL kicker. It's one of the most high-pressured jobs in all of sports and it comes with more scrutiny than praise. Chances are you are more likely to be cut or get death threats for missing a kick than you are to get anything more than a high five for making one. It's just the way things go.
On Wednesday, Baltimore Ravens kicker Justin Tucker signed a four-year contract extension worth $23 million, per ESPN's Adam Schefter. It will feature $12.5 million fully guaranteed in the first two years, an $8 million signing bonus, and will keep him with the AFC franchise through 2023.
It's a record deal for a kicker, but it just isn't enough.
RELATED: Russell Wilson Gifts $12,000 in Amazon Stock to Entire Seahawks O-Line
It might sound strange to say it's not enough. Most everyone would take a cool $23 million to do their job, especially if it just involves kicking a football through some uprights across the country. But the 29-year-old Tucker is different and better than his peers.
A Houston, Texas native and former 2012 undrafted free agent from the Texas Longhorns, Tucker is the most accurate kicker of all time. He's made 237 of 263 field goal attempts (90.1 percent) and has only missed one extra point in his entire seven-year career (241-for-242).
"Hey, Ravens Nation, Justin Tucker here. Excited to be a member of the Baltimore Ravens through 2023 and to rep a great city. Thanks, Baltimore. I'll see y'all out on the field."
There's really no kind of price tag on that type of consistency. It's invaluable in today's age of football and $20 million seems like a very low figure for the Super Bowl XLVII champion, two-time Pro Bowl selection, and three-time First-Team All-Pro member.
The dollar figure for the four-year extension is NFL history, which is pretty cool, but it still doesn't dismiss the fact that a man of Tucker's stature should be getting paid a lot more for being a complete badass at his job when the money is definitely there.
It's highly doubtful Justin Tucker will ever complain, though.