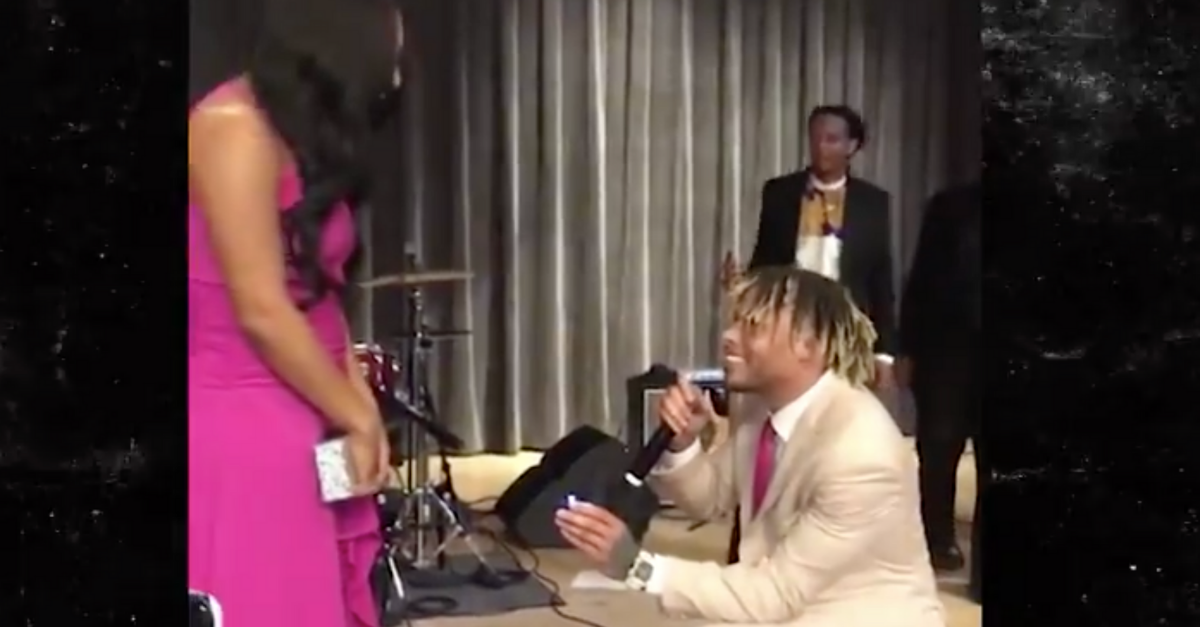 TMZ Sports
When safety Tyrann Mathieu signed a three-year, $42 million contract with the Kansas City Chiefs this offseason, you knew he was going to buy something he wanted. After all, they don?t call him the Honey Badger for nothing. Money certainly isn?t an issue right now and so he decided to invest in the rest of his life.
At an event back home in New Orleans, Louisiana, wearing a suit and with a microphone in hand, the 2015 First-Team All-Pro and Pro Bowl selection got down on one knee and proposed to longtime girlfriend Sydni Paige Russell with a diamond ring for the ages.
According to TMZ Sports, the massive rock from ZoFrost features a ?6-carat emerald cut center stone with 3.35 carats on the band.?
Yes, it's that big and it cost a whopping $250,000.
RELATED: Patrick Mahomes? New Home Address Leaked by Kansas City TV Station
After stints with the Arizona Cardinals and Houston Texans, it appears Mathieu is ready to take a big step personally in marrying Sydni Paige Russell, the step daughter of former New York Jets head coach Todd Bowles.
The good news is he has the cash to pay the engagement ring in full right now.
Just take a look at this thing. It's absolutely unreal. That's a really nice home in Kansas City just sitting on her finger.
A former third-round pick (No. 69 overall) in the 2013 NFL Draft from the LSU Tigers, Mathieu has recorded nearly 400 tackles, 7.0 sacks, four forced fumbles, 49 pass deflections, 13 interceptions and one touchdown in his career so far.
The star defensive back is looking to be a much-needed boost to the Chiefs? secondary immediately this season. And he?s now a game-changing talent both on and off the field because the ring that hit social media is truly one-of-a-kind.