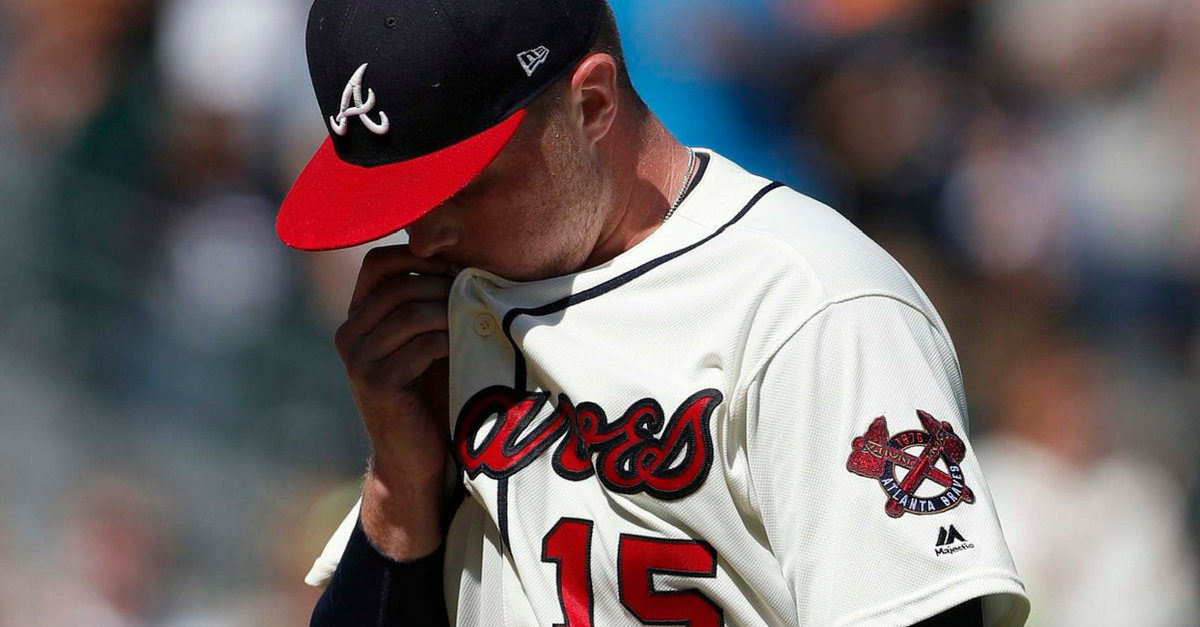 Twitter: @detnews_sports
Twitter: @detnews_sports
Atlanta Braves pitcher Sean Newcomb was one strike away from throwing a complete game, no-hitter on Sunday. Newcomb, who has never thrown a complete game, tossed 134 pitches before giving up a hit with two outs in the bottom of the ninth inning. The Braves beat the Los Angeles Dodgers 4-1, and Newcomb was given a standing ovation for his performance.
The postgame story should have been Newcomb's brilliant no-hit bid. What happened, however, was that social media sleuths dug deep into Newcomb's Twitter archives, revealing offensive language and homophobic slurs he used dating back to 2011 and 2012.
A near no-hitter was trumped by racist and homophobic tweets Newcomb posted during his freshman year attending the University of Hartford. One tweet, posted April 5, 2012, came the day after he threw a shutout against Yale.
Newcomb has deleted his Twitter profile entirely and issued an apology. In it, Newcomb said, "This is something that obviously can?t be happening. I feel bad about it. I don?t mean to offend anybody. I definitely regret it."
Newcomb was being actively scouted by MLB teams since his senior year of high school.
High-profile teenage athletes are groomed to feel invincible to the outside world — no matter what they did in high school growing up, they are the star athlete on their team, so why should they care?
For people claiming these things deserve a free pass, or lean on the argument that "mistakes happen a long time ago," is totally bogus. When you're an up-and-coming athlete with professional aspirations, you should understand the difference between right and wrong. If you don't, then that is the fault of the kid's school, mentors and climate around him everyday.
Immaturity reared its ugly head, and Newcomb got caught in his own truth.
Should he be held accountable? Absolutely.
Newcomb's story is just one example of a young kid getting caught later in life for things he said in the past, and it's not even the only case in Major League Baseball this month.
Washington Nationals shortstop Trea Turner had similar tweets using racist/homophobic language unearthed, for which he promptly issued an apology. Milwaukee Brewers reliever Josh Hader went through sensitivity training after offensive tweets using racist language surfaced while he was pitching in this past summer's All-Star Game.
Prior to the 2018 NFL Draft, Wyoming quarterback Josh Allen had old tweets in wish he repeatedly used racial slurs found dating back to 2012. The tweets have since been deleted.
That didn't stop the Buffalo Bills from drafting Allen No. 7 overall.
In September 2016, Seattle Mariners player Steve Clevenger tweeted the following, which he later deleted and was forced to apologize:
"Black people beating whites when a thug got shot holding a gun by a black officer haha [s?t] cracks me up! Keep kneeling for the anthem!"

"BLM is pathetic once again! Obama you are pathetic once again! Everyone involved should be locked behind bars like animals!"
In his apology, Clevenger argued that his blatantly racist rhetoric wasn't racist at all.
Clevenger said, "I am sickened by the idea that anyone would think of me in racist terms."
What a joke.
Professional athletes, just as much as (and if not more than) an elected official, need to be held accountable for their words and actions. To hide behind a carefully drafted, team-sponsored apology in an attempt to pass it off as fast as possible is downright shameful.
Anyone who is a young athlete, or the parent, guardian or friend of a rising young star with aspirations to play at the professional level should learn that what you say on social media isn't a lie: they are your words, reflect your attitude and reveal your true character behind the screen on which you type them out.
No amount of scripted apology or "second chance" mentality will wipe those words away.
Chicago Cubs veteran pitcher Jon Lester put it perfectly.
"Better yet, don't say stupid things in the first place."
It?s true that not everyone is part of the privileged history that was responsible for some of our society?s most engrained problems of racism, greed, and abuse. It?s also true that not everyone is white. In light of those facts, though, it is true that it?s only been 63 years since 14-year-old Emmett Till was brutally lynched in Money, Mississippi for a crime he didn?t commit. It?s easy to forget that this cruel act isn?t as far in the past as we all imagine because even the most 'progressive' among us still use words that harken back to that dark time in 1955.
If you don't have the common sense to know the difference between what you can and can't say, then our society is not doing a good enough job to educate our youth on social responsibility to prepare them for the realities of life in today's world.
Professional athletes or not, we should all take lessons from this saga, which sadly, is sure to continue. Racism is engrained in our society, and it's going to take a lot more than "I'm sorry" to wipe that truth away.