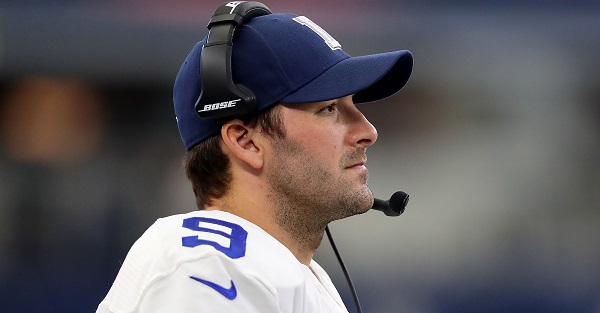 Tom Pennington/Getty Images
ARLINGTON, TX - NOVEMBER 20: Tony Romo #9 of the Dallas Cowboys looks on as the Dallas Cowboys take on the Baltimore Ravens in the fourth quarter at AT&T Stadium on November 20, 2016 in Arlington, Texas. (Photo by Tom Pennington/Getty Images)
Tony Romo landed a very nice job as the lead NFL analyst for CBS Sports and that gig always seemed to be something of a final destination for the former Dallas Cowboys quarterback. Still, there has been plenty of speculation as to whether Romo could return to the field after a foray into broadcasting.
With that said, Romo did an interview this week and left very little wiggle room with regard to his retirement, based on his remarks to the Fort-Worth Star Telegram.
He began his response to a question about a comeback by jokingly saying, "Oh yeah, probably a good chance. We'll see how it plays out." From there, though, Romo said, "I think you'll find… I'm joking. Like I said before, I'm done."
This effectively shuts the door on speculation to the contrary and Romo went on to expand on his CBS opportunity. "I get to be passionate about the game, hopefully teach a little bit, hopefully make it a little bit entertaining along the way. It's going to be fun," he told the Star Telegram.
Dak Prescott is "the guy" in Dallas and Tony Romo is focused on broadcasting. Perhaps this will slam the door on the buzz once and for all.