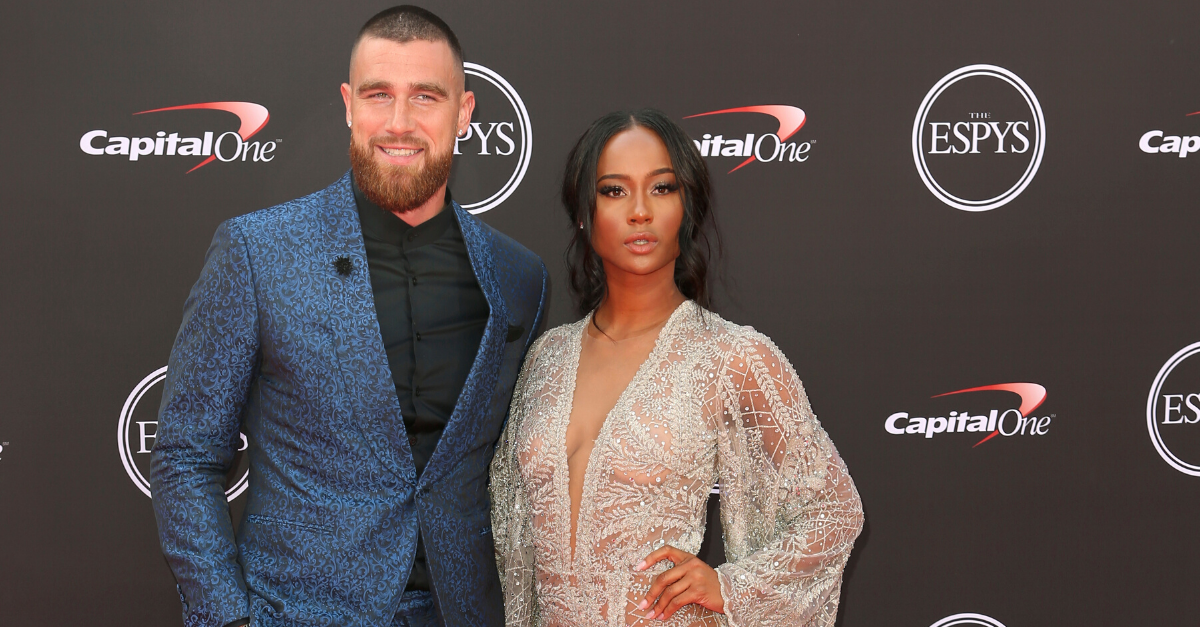 Photo by Willy Sanjuan/Invision/AP
Kansas City Chiefs tight end Travis Kelce didn't waste any time bursting onto the scene as one of the NFL's best receiving tight ends. Selected in third round of the 2013 NFL Draft, Kelce was just 25 when he led his team in receiving yards in 2014.
Since then, the University of Cincinnati product has logged more receiving yards than any other tight end in the league and caught 37 touchdown passes, which ranks third behind Jimmy Graham and Rob Gronkowski over that span. Kelce can thank Patrick Mahomes for helping him reach those numbers.
The Super Bowl champion is also a five-time Pro Bowl and two-time first-team All-Pro. The 30-year-old just so happens to be in the prime of his career having recorded four straight 1,000-yard seasons. He's also a first-ballot Hall-of-Famer at activities like dropping F-bombs on live TV and drinking beer out of the Lombardi Trophy.
Travis Kelce is a catch off the field, too. The fashion-forward, bearded fella makes more than $10 million per year and even starred on a dating show to find love. However, that's not how the Chiefs superstar landed his girlfriend.
Who is Travis Kelce's Girlfriend Kayla Nicole?
Kayla Nicole describes herself as an "on-camera host" and has worked for publications such as NBA, BET, Global Grind, HotNewHipHop, XONecole, All Def Digital and Ballislife.com, according to Heavy.com. She's also a model who has competed in beauty pageants.
The sports media personality currently has more than 380,000 followers on Instagram and reportedly hails from Los Angeles, California. She attended Pepperdine University in Malibu, where she received a degree in broadcast journalism.
One glance at both of their social media accounts (@killatrav and @iamkaylanicole) and you can tell Nicole is Kelce's right-hand woman when he's not catching passes at Arrowhead Stadium. She's attended dinners, galas and weddings with him. After the Chiefs beat the San Francisco 49ers in Super Bowl LIV, she partied on one of the floats in the parade.
"Woke up next to an AFC champ this morning!!!! ❤️💛 Few things more satisfying than watching the man you love achieve his dreams," she wrote on Instagram after the Chiefs' AFC Championship game win in January 2020. "Trav, (you're sitting next to me so don't make this weird lol) – your dedication, resilience and heart for this game is unmatched. You are truly reaping the fruit of your labor and I'm just thankful I get to witness. I dream bigger because of you baby. One step closer!"
She Has a Great Sense of Humor
RELATED: Rob Gronkowski's Girlfriend: The Patriots Cheerleader Turned Swimsuit Model
Nicole also has a terrific sense of humor, as evidenced by a hilarious ad in which she dressed in football gear for BABE wine.
She and Kelce clearly love to have fun together, too. They recreated Austin Powers in Goldmember for Halloween in 2019. In one video she posted to Instagram, she distracts her boyfriend by dancing in front of him while he's playing video games.
Nicole seems like she loves to have fun. Whether it be dancing with Kelce until the morning sun rises or partying with Mahomes' girlfriend Brittany Matthews in bikinis, she seems to enjoy life.
How Did They Meet?
The picture-perfect couple has been turning heads for a few years now.
They first went public in May 2017 at former Chiefs wide receiver Jeremy Maclin's wedding. That post began to make Kelce fans wonder just who this new girl was, because clearly they were pretty serious.
According to Nicole, the two didn't meet at a club or a bar or even through a mutual friend. They met on Instagram like so many athletes do today.
"He Insta stalked me," she said in an Instagram post. "I dmd him. The end."
Is that all it takes to begin dating a Super Bowl champ?
Kelce is apparently pretty fond of his girl. I'll let you decide what these analogies mean.
"She's the rock to my roll, the passion to my fruit, even the peanut butter to my JELLYTIME… she's my errrrthang! Love you lil baby, some people take this IG thing a little too serious," he wrote on Instagram.
Kelce Had His Own Dating Show
Before dating Kayla Nicole, Kelce starred on his very own dating show: "Catching Kelce." The Bachelor-style show ran on E! from January 2016 to April 2016 and included a cast of female contestants that oddly included former NFL player Mark Schlereth's daughter.
The woman who "caught Kelce" on the show was Maya Benberry. The Paducah, Kentucky, native didn't win money or a prize, but she did win a relationship with an NFL player and the fame that came with starring on the reality TV show.
"I did win. We wrapped up filming the finale April 8, and we've had to keep things a secret since," she told Kentucky.com. "Now we just date in real life. To me and him, it feels like a fresh start."
Things didn't last long between the two of them, however. By January 2017, she confirmed that they had split up.
In May 2017, she accused Kelce of some pretty shady stuff regarding his quick turnaround to dating Kayla Nicole.
"When you and your ex broke up 5 months ago but you find out via social media that he's supposedly been in another relationship for 6…" Benberry wrote in a tweet.
Regardless, Kelce and Nicole have been going strong ever since. They've been dating for more than three years now and they appear to be very much in love. Let's hope it lasts.