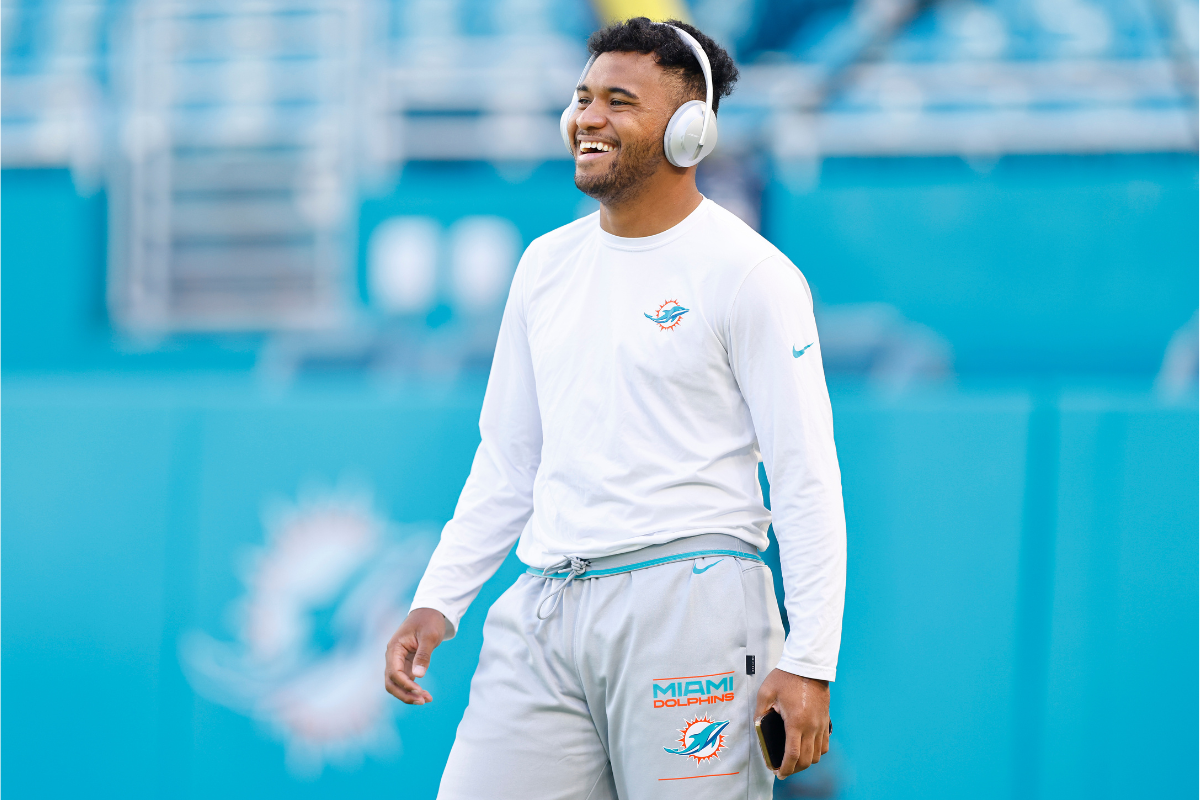 Michael Reaves/Getty Images
The Miami Dolphins have had quite the offseason. It kicked off with the surprise firing of Brian Flores, who went on to file a lawsuit against the 'Fins, the NFL and other teams across the league. He was replaced by San Francisco 49ers offensive coordinator Mike McDaniel. Then, Miami traded five picks, including a first-rounder this year, to the Kansas City Chiefs in exchange for star wide receiver Tyreek Hill. They proceed to ink Hill to a four-year, $120 million deal, making him the highest paid wideout in the league. Most recently, the Dolphins, and specifically owner Stephen M. Ross, were punished for tampering with Tom Brady because of course they were.
In the midst of everything, quarterback Tua Tagovailoa enters his third season with much to prove. Now that he has an offensive-oriented head coach and the most dangerous weapon in the NFL at his disposal, expectations are higher for the No. 5 overall pick in the 2020 NFL Draft. In an age where quarterbacks are expected to develop at a lightning-fast pace, Tua hasn't adapted as quickly as his peers, causing many to question his long-term future in South Beach. But, we must remember he's only 24 and hasn't had much to work with.
However, before Tua shows us what he's made of on the field, he took care of some important business in his personal life.
Tua's Secret Marriage to Wife Annah Gore
RELATED: Joe Burrow's Girlfriend Will Always Be His No. 1 Fan
Tua is a very, very private guy. So, it was surprising to learn he had a girlfriend who actually existed let alone a wife. At a training camp press conference yesterday, it was revealed the University of Alabama product tied the knot with his longtime girlfriend Annah Gore on July 18. Right on brand, Tua and Annah didn't have a big ceremony or anything, they simply went to the Broward County courthouse in Florida to tie the knot.
"It was very special. I don't know who ended up leaking it, but he must have been waiting outside the courthouse for an entire week or something," the Dolphins quarterback said. "For me, I love to keep my life as private as possible, and that's what we tried to do, me, my wife and my family. But obviously in this world, that?s not how it is. It?s almost kind of disrespectful, if you will, by doing that. But it is what it is, and, shoot, can't do anything about it. Guys, I have a wife."
It remains a mystery how the news got out. Maybe someone was perusing the public records on the Broward County Clerk of the Courts website and stumbled across their marriage license. Completely normal thing to do if that was the case.
As for Annah, unsurprisingly, there's little to nothing known about her other than she's now Tua Tagovailoa?s wife, a North Carolina native and her full name is Annah Concetta Gore. How they're able to keep their relationship so close to the chest is beyond me. I've searched high and low, and the only trace of her I can find is a private Instagram account.
Los Angeles Clippers funny guy Kawhi Leonard and Colorado Avalanche star Nathan McKinnon are masters of keeping their private lives under wraps. Tua may have them beat.
Related Videos