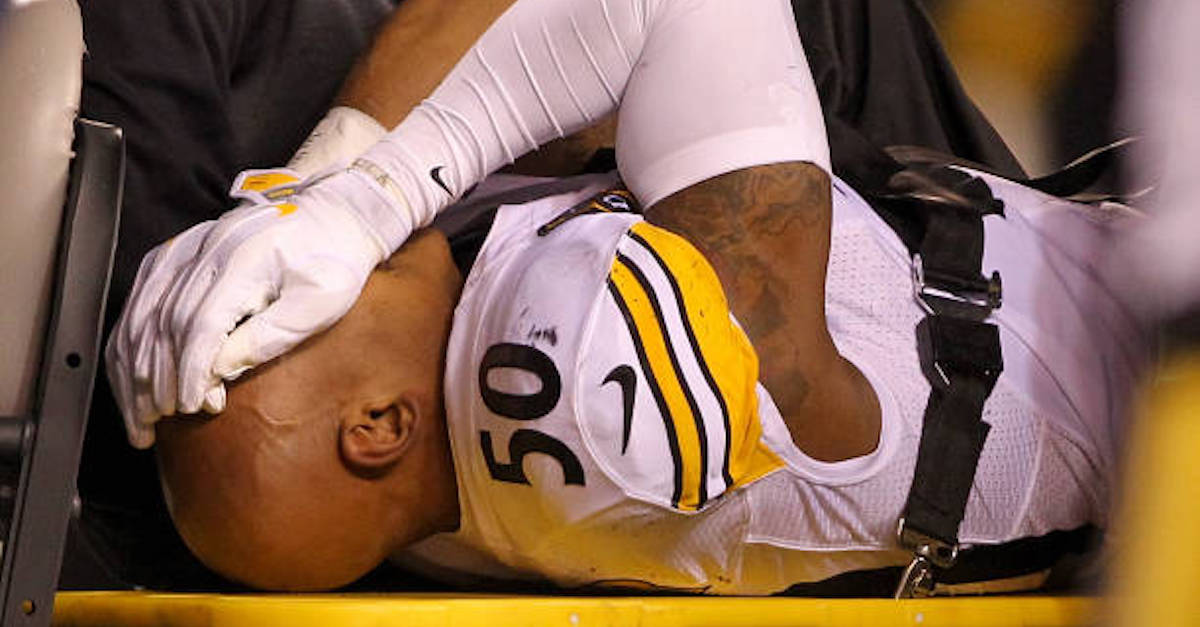 John Grieshop/Getty Images
CINCINNATI, OH - DECEMBER 04: Ryan Shazier #50 of the Pittsburgh Steelers reacts as he is carted off the field after a injury against the Cincinnati Bengals during the first half at Paul Brown Stadium on December 4, 2017 in Cincinnati, Ohio. (Photo by John Grieshop/Getty Images)
Ryan Shazier suffered one of the worst injuries a football player could. Not only did it knock him out of the game and potentially the season, but it may have threatened his life.
At the very least, it certainly threatened his way of life.
Shazier, a fourth-year pro out of Ohio State, was the one doing the hitting when he was injured, but the angle at which he made the tackle and with the way his shoulder/neck area hit his target, he was clearly hurt from the get-go.
In fact, the broadcast was very clear in mentioning that nobody has seen his legs move since the moment of his injury, though he did immediately reach for his back.
https://www.youtube.com/watch?v=JIKBpQ7q_E4
It was a fluke accident on what was otherwise a routine NFL tackle, and perhaps that's what made it so scary, for fans and players alike.
Shazier was rushed to the hospital with a severe spine injury with major doubts as to how he could ever return to play football. He underwent spinal stabilization surgery and now the hospital in which he's receiving treatment, the University of Pittsburgh Medical Center, has released a statement regarding his recovery.
This was passed on by Pro Football Talk:
?Ryan Shazier remains hospitalized at UPMC recovering from the spinal stabilization surgery performed last week by UMPC neurosurgeons and Steelers team physicians Drs. David Okonkwo and Joseph Maroon. Mr. Shazier has started physical rehabilitation as part of his recovery process.?
That's perhaps the best news that can be hoped for in this situation. It has been quite obvious that Shazier is in a serious situation, but "started physical rehabilitation" is a lot better than "no updates at this time" or something in that light, so perhaps there is a reason to be optimistic about Shazier's outlook.
Perhaps he won't ever play again, but at this point, many would be relieved to hear that he'll be able to find a way to walk and function normally after the injury.
That's not to say that miracle comebacks aren't possible, but let's take it one positive update at a time.