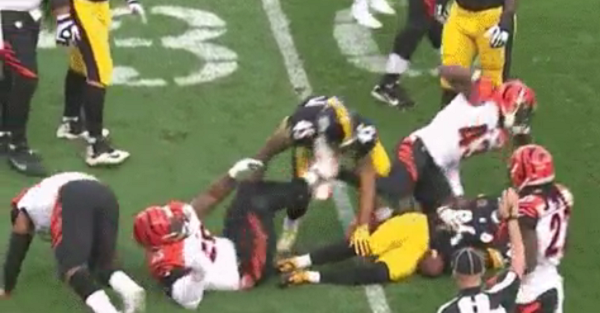 @Alex_Kozora/Twitter
@Alex_Kozora/Twitter
Pittsburgh Steelers star running back Le'Veon Bell made waves this week in suggesting that a fellow member of the NFL players' fraternity "gotta go" from the league as a result of his antics. On Friday, word broke that the same player in question was actually set to be fined for what he did on the field last Sunday.
Bell was referring to embattled Cincinnati Bengals linebacker Vontaze Burfict, who made conduct with Steelers FB Roosevelt Nix with his foot during the battle between the two teams.
As a result, he is being fined more than $12,000 by the NFL.
Some of Bell's outrage stemmed from the fact that a fine (or even suspension) did not appear imminent for Burfict but this moves stands to correct that injustice. In some ways, this is a run of the mill occurrence for Burfict, who has been repeatedly suspended and fined while earning "dirtiest player in the NFL" descriptions, but the league had a delayed response and there was buzz as a result.
Burfict was not ejected from the game and, as noted, he will not be suspended. His wallet will be lighter, though, and at least that is something that the Steelers can hold on to in the aftermath of one of their own players being kicked.