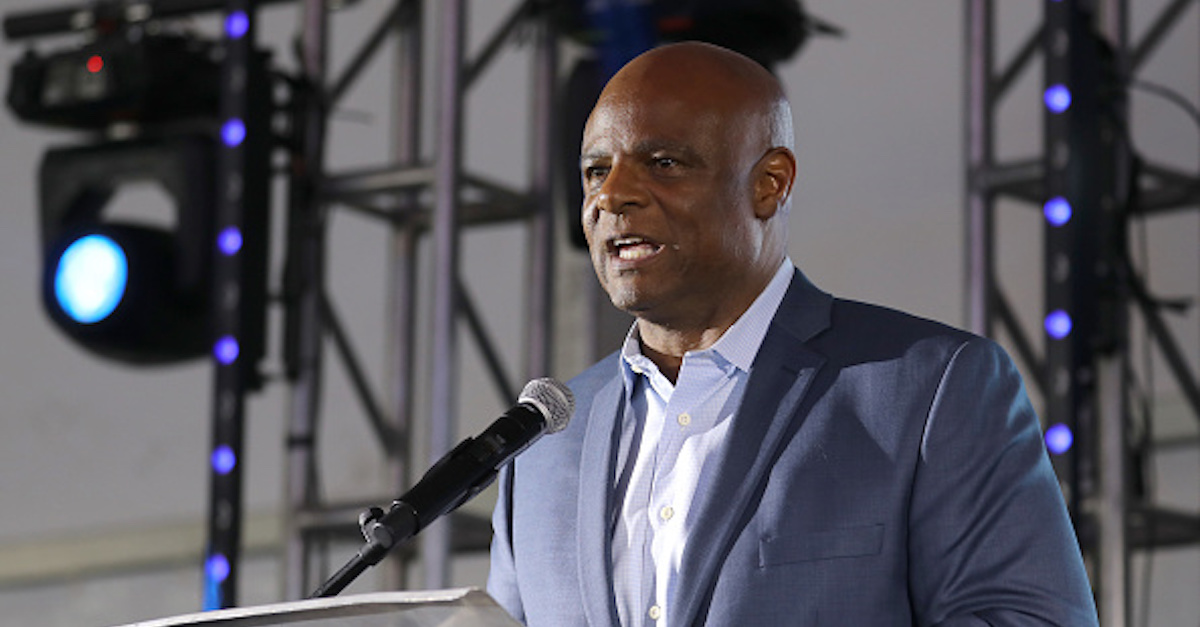 Tasos Katopodis/Getty Images for Leigh Steinberg
HOUSTON, TX - FEBRUARY 04: Former NFL football player Warren Moon speaks onstage during the 30th Annual Leigh Steinberg Super Bowl Party on February 4, 2017 in Houston, Texas. (Photo by Tasos Katopodis/Getty Images for Leigh Steinberg)
Warren Moon has been accused of despicable acts by a woman who worked for his sports marketing firm, adding his name to the list of notable and/or famous men who have been outed for inappropriate — if not illegal — actions towards women.
Craig Whitlock of The Washington Post is reporting that Moon is being accused of making his accusor, a California woman, "wear thong underwear and share his bed during business trips."
Moon, an NFL Hall of Famer, is being sued for sexual harassment for that and other egregious acts, including grabbing the woman's crotch, pulling off her bathing suit and "slipping a drug into her drink" during a trip to Mexico.
Here's more from Whitlock, reporting the suit filed by 32-year-old plaintiff Wendy Haskell, who was Moon's executive assistant and traveled with him on a weekly basis:
When she protested (wearing the nightclothes), he replied that she had to comply to keep her job and said that "his prior assistant accepted the same arrangement," the lawsuit states.

Haskell declined to comment through her attorney, Diana L. Fitzgerald of Miami. The Washington Post does not ordinarily name alleged victims of sexual assault, but Fitzgerald said her client had agreed to go public.

Fitzgerald said Haskell did not report any of Moon's conduct, including the alleged sexual battery, to police. "I think she was scared," she said.

"She was expecting to further her career in the sports marketing industry," Fitzgerald added. "She had no idea that her job duties were going to involve that kind of perverse protocol."
According to the report, Moon was previously accused of sexual harassment in 1995 by a Minnesota Vikings cheerleader, alleging he offered her cash for sex. The case was settled out of court.
The same year he was arrested in Texas after his wife told police he slapped and choked her. He acknowledged making a mistake, reconciled with his wife and she declined to press charges. He was charged with assault and later acquitted, per the report. They divorced in 2001.
Moon is the co-founder of Sports 1 Marketing, the company for which he currently serves as president.
Haskell was his personal assistant but claims she was demoted after complaining about Moon's sexually inappropriate conduct towards her.