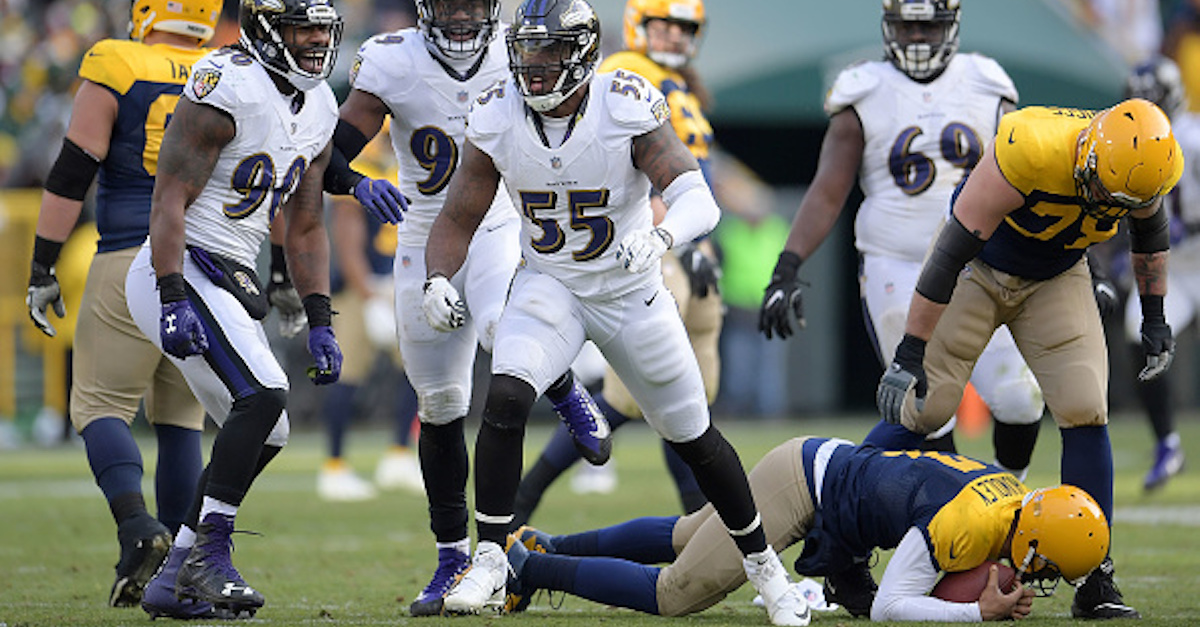 Stacy Revere/Getty Images
GREEN BAY, WI - NOVEMBER 19: Terrell Suggs #55 of the Baltimore Ravens celebrates after a sack of Brett Hundley #7 of the Green Bay Packers during the second half of a game at Lambeau Field on November 19, 2017 in Green Bay, Wisconsin. (Photo by Stacy Revere/Getty Images)
The Green Bay Packers are in a bad way. Aaron Rodgers is out with an injury — perhaps for the year — and backup quarterback Brett Hundley is having a hard time getting it done.
Since taking over for Rodgers against the Minnesota Vikings, Hundley has completed just 77-of-157 passes for 940 yards and only two touchdowns. Meanwhile, he's thrown seven interceptions and has fumbled the ball away twice.
No, Hundley hasn't been good at all, and Green Bay's once-explosive offense has stalled as a result. Case in point, the Packers have averaged only 10.2 points per game in the five games since Hundley has been under center.
That's a terrible average, especially considering what the Packers have been able to do with Rodgers under center, but it was severely hindered by this past weekend's output, when the Packers were shutout by the Baltimore Ravens, 23-0.
It was a terrible game for Green Bay, perhaps made even worse by the fact that the shutout severely hurt a local Wisconsin bar. According to an interview on "As It Happens" on CBC Radio, The Bavarian Bierhaus in Glendale, Wisconsin normally has a promotion where the beer is free until the Packers score. Of course, that's not long with Rodgers manning the ship, but with Hundley at quarterback and the Packers not scoring at all during the game last weekend, that led to a ton of free beer being given away by the bar.
The bar's general manager, Scott Bell, spoke with the radio program:
"What happens is that people come to the Bierhaus to watch the Packer game and at kick off we start serving free beer to anybody who would like it … We serve the first initial free beers and, typically, historically, we've been done serving free beer by the middle of first quarter. Sunday's game didn't work out that way."

"I have to tell you, Carol, that so many people, when they came back after the half time and in the third quarter, actually apologized for drinking my beer, hoping the Packers would score."
You know things aren't going well when people are apologizing for drinking free beer, but that's exactly how fans of the Packers have been feeling lately.
This season at one point seemed to have Super Bowl potential. That potential has been thrown away by Rodgers' injury though.
Instead of vying for the Super Bowl, Green Bay is struggling to even score three points.
That's a fall from grace that even free beer can't make feel better.