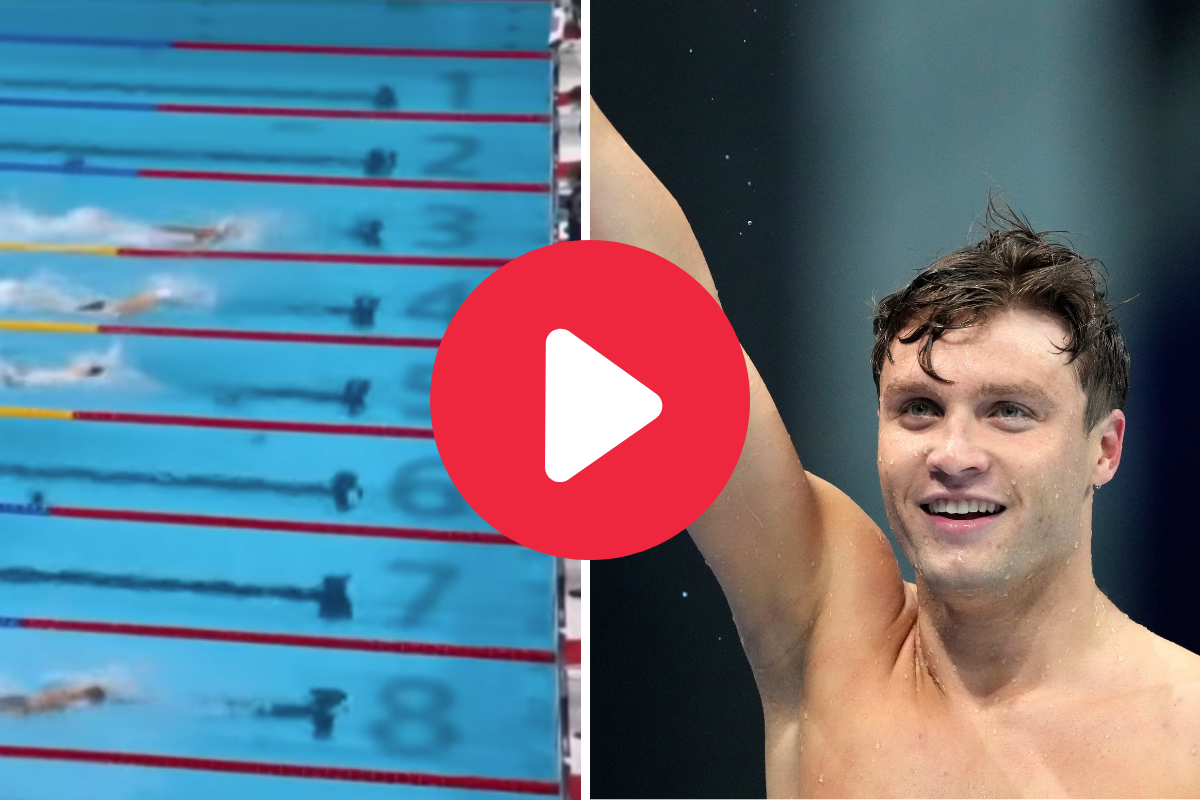 Screenshot from YouTube (left), AP Photo/Matthias Schrader (right)
The Olympics are as good a place as anywhere to peak. It's what all athletes who train their whole lives for one specific event aspire to do, right?
American swimmer Robert Finke (aka Bobby Finke) entered the 2020 Tokyo Olympics just happy to be there. The 21-year-old from the University of Florida rightfully qualified for his first Olympic games at the U.S. trials this past June.
Personal bests of 7:48.22 in the 800-meter freestyle and 14:46.06 in the 1500-meter freestyle were more than six seconds off the world leaders. Making the finals would be a long shot. Medaling would be a pipe dream. Winning the gold? That's straight out of a movie.
It appears Finke's life is indeed a movie because he left Japan with not one but two Olympic gold medals.
Bobby Finke Wins Gold Medal in 800-Meter Freestyle
RELATED: Caeleb Dressel Tears Up Talking to Family After Making Olympic History
Finke's low expectations allowed him to go into pre-Olympics training camp in Hawaii with no pressure. He succeeded in quickening his speed under the guise of his Florida coach Anthony Nesty. Nesty later said Finke's camp was "probably the best three weeks I've seen."
Finke entered the pool at the Tokyo Aquatics Centre a little more confident. That's all he needed. He crushed Italy's Gregorio Paltrinieri and Ukraine's Mykhailo Romanchuk with a time of 7:41.87 to win the gold. And he did it in amazing comeback fashion.
It was the by far fastest race of his life, and it couldn't have come at a better time.
Finke Wins Second Gold Medal in 1,500-Meter Freestyle
One individual Olympic medal is nice, but Finke wasn't done. He carried the momentum from the 800 into the men's 1,500-meter freestyle final.
He swam at a consistent 29-second-per-lap pace to keep up with the leaders of the pack, Romanchuk and Germany's Florian Wellbrock, only to turn on the jets on the final length to win the gold. Katie Ledecky cheered her teammate on from the stands. It was Team USA's first victory in the event in 37 years.
?Honestly it doesn?t seem too real. I came in not expecting to medal and just do my best to make the finals. To come out with two golds, it means the world to me and my family and my teammates.? a surprised Finke told Boston.com.
Not a bad showing in his first Olympic games.
Finke and swimming sprinter Caeleb Dressel, who is also a Gator, have been two of the biggest breakout stars of the 2020 Summer Olympics. The future of American swimming is in good hands.