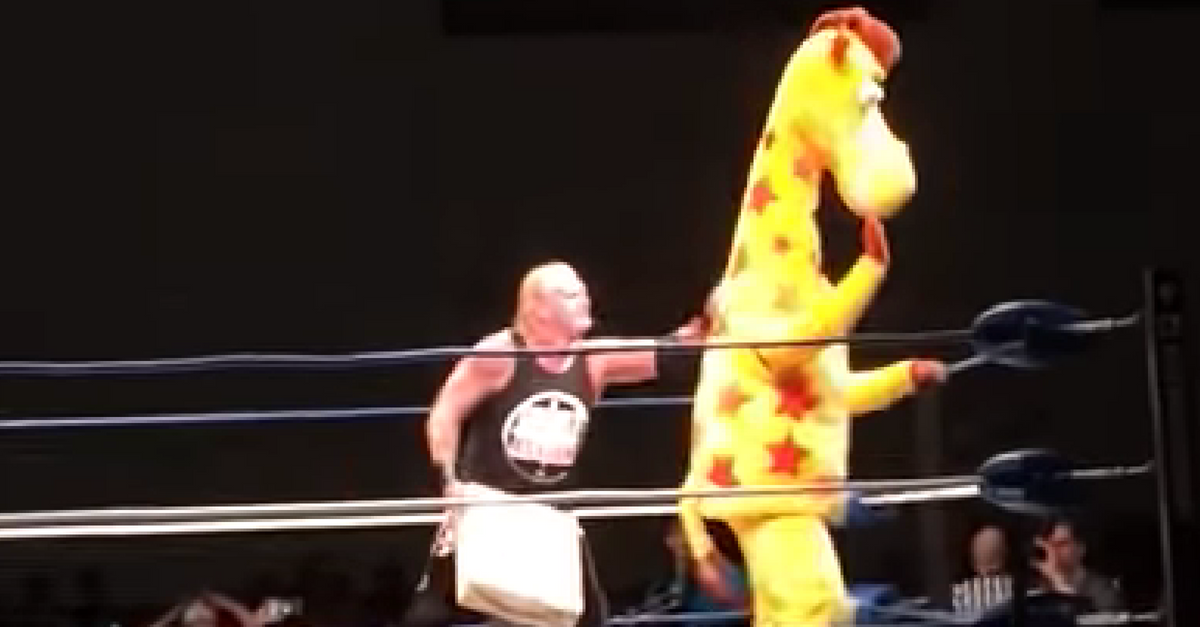 To say life hasn't been easy for Geoffrey the Giraffe the last few months would be an understatement. The famous Toys "R" Us mascot cannot catch a break at all.
In the spring, the company announced it would close or sell all 735 of its stores in the United States months after filing for bankruptcy. And over the weekend, the beloved mascot decided to start a new career in the wrestling world.
The entrance to the ring was epic. The fight was impressive. The ending was unfortunate.
Just when the things looked promising for the massive mascot at Supercon in Florida during a ridiculous, and annual, FSCW 30-man rumble, everything took a turn for the worse.
Geoffrey, who many believed to be a rather surprising entry, felt so good about an impressive clothesline and strong choke slam that he decided to taunt. He went to the corner to climb the ropes, pump his chest, get the crowd involved, and let everyone know not to mess with the toy company's ex-spokesanimal.
It lasted for a good while before he was eliminated by, you guessed it, an Amazon Prime package.
Seriously, that actually happened.
What a tragic way to get eliminated. Geoffrey got popped pretty good on the right side of his face and he took a pretty nasty tumble over the ropes by a similar package that is likely one reason the company closed its stores across the country in the first place.
Sometimes life is just cruel.
Geoffrey the Giraffe was once known as "Dr. G. Raffe" in the 1950s, and officially became the spokesanimal in 1965 when the company launched its new Toys "R" Us brand.
It is hard telling whether he will attempt a career in the wrestling world, but it's safe to say the debut was not what he was hoping for.