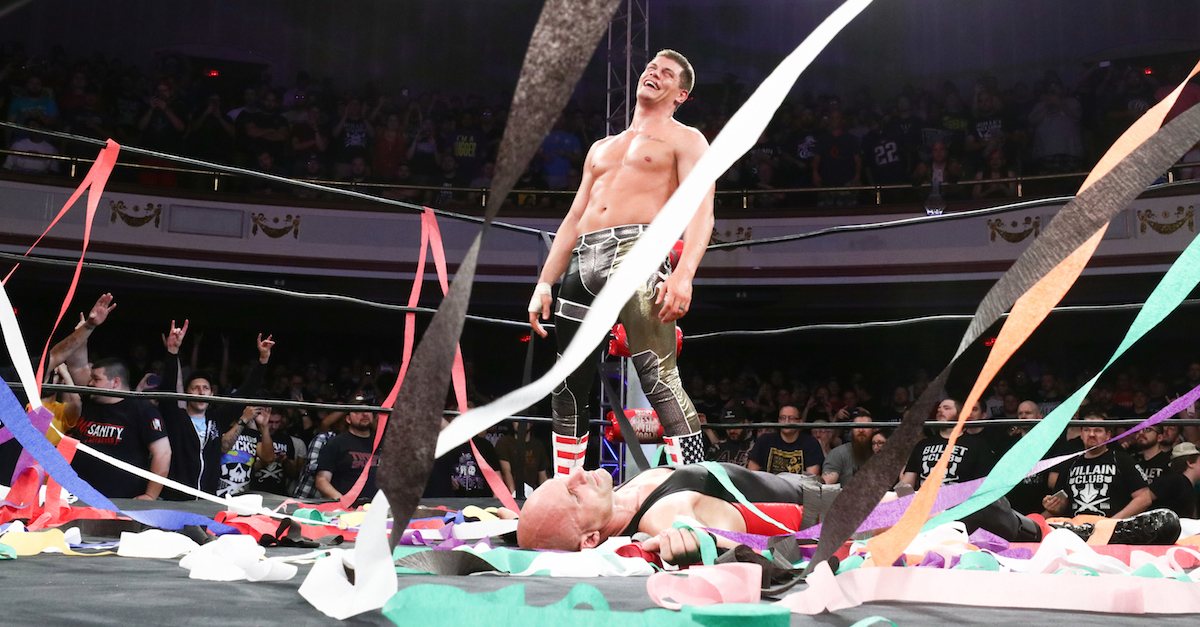 Devin Chen/Ring of Honor
Devin Chen/Ring of Honor
Cody Rhodes told us back in August he wanted to put on a 10,000-seat show, and he is officially "swinging for the damn fences."
Rhodes tweeted the following, while scouting a potential venue for the massive #ROH10000 show. Pro Wrestling Sheet reported Cody and the Young Bucks were scouting Chicago, London, San Francisco and Ontario (California) as potential locations.
Cody proceeded to go on Sirius XM's Busted Open radio, where he named Daniel Bryan as a dream opponent, per a separate Pro Wrestling Sheet report.
[soundcloud url="https://api.soundcloud.com/tracks/362212802″ params="color=#ff5500&auto_play=false&hide_related=false&show_comments=true&show_user=true&show_reposts=false&show_teaser=true" width="100%" height="166″ iframe="true" /]
Ring of Honor's Joe Koff previously spoke on the potential of a Daniel Bryan return.
ROH COO Joe Koff commented on what he called ?internet fun,? during an exclusive interview with FanBuzz.
?I think it?s just fun. There?s nothing to it. I think it?s a hope of the Ring of Honor fan. I think it would be a hope of Ring of Honor as a company. If that?s going to happen, it?s going to happen, but it will happen organically. It?s not something that?s being puppetized now,? Koff said.
?It?s internet fun. It makes for a good story.?
And eventually a less than subtle message to the American Dragon:
Rhodes and the Bucks would reportedly work with ROH to get this deal done, and it would likely take the company clearing Bryan should he become a free agent to return to the ring.
Here's what Rhodes told us back in August on the prospect of putting on a 10,000-seat show:
?If I could add anything to (my checklist), I would add a 10,000-seat arena. I?ve seen with what New Japan Pro Wrestling was able to do in Long Beach with the G1 specials, what Ring of Honor has been able to do with the VOD shows and with the PPVs, I know that both companies together or by themselves are capable of filling a 10,000-seat arena,? he said.

?I really want to explore that option in 2018. Not just for the novelty of it, not saying ?hey they?re not WWE, but they did this.? But that the product was as good if not better.?
It looks like that opportunity is getting closer toward reality.