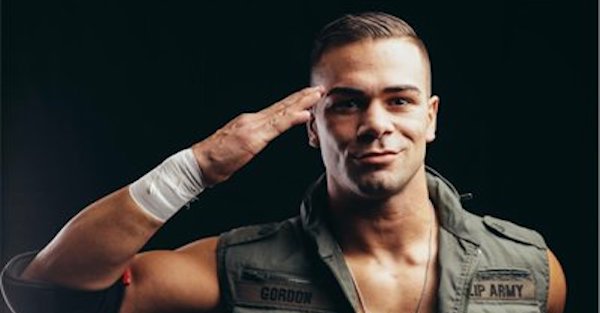 Ring of Honor
Flip Gordon
Less than three years into his wrestling career, Flip Gordon is out to become Ring of Honor's next breakout star.
Paired with an electric wrestling style and his signature flips, Gordon's rise has been meteoric.
"It all happened really fast," Gordon said of signing with ROH back in April 2017 while promoting the company's upcoming tour.
"My goal was to wrestle anywhere and everywhere. The more I wrestled, the more I would learn. I'm willing to go anywhere and everywhere. I want to learn every style, I want to wrestle as many people as I can because I just know it's going to make me better. That's the goal is to get better each and every day."
Gordon's pursuit to continue enhancing his talents will bring him on ROH's upcoming tour of Fort Lauderdale, Florida (11/11) and Lakeland, Florida (11/12) before running the Survival of the Fittest gauntlet through San Antonio, Texas (11/17), Dallas, Texas (11/18) and Oklahoma City, Oklahoma (11/19).
It's in Florida where Gordon will step in the ring with Hangman Page and Matt Taven on back-to-back nights.
"Hangman Page is going to be a lot of fun. Our chemistry on Being the Elite and their Harmful Ribs. I'm trying to get revenge on Bullet Club one by one. There's going to be a lot of moonsaults because he likes moonsaults as well. I'm definitely bringing my A-game," Gordon said.
"Taven is a guy I looked up to in the New England area coming up. He was there when I first started wrestling. He said 'hey, keep at it.' To be in Ring of Honor with him and to get our first match ever will be really cool."
For Gordon, one match at a time, it's a learning process for the 25 year old.
From amateur wrestling in high school to pro wrestling in front of thousands
Gordon knew all along he wanted to be in wrestling.
He was a four-time state champion wrestler in high school, joining the sport because he saw how successful Kurt Angle and Shelton Benjamin were in their transition to pro wrestling.
He watched guys like Eddie Guerrero, Rey Mysterio, Paul London and Super Crazy, and attempted to mimic their wrestling styles by teaching himself flips in his backyard.
"Those guys are the reason I wanted to be a wrestler, and the reason why I wrestle the style I do," Gordon said.
In college, Gordon tried his hand at MMA before taking up gymnastics. The latter helped fine tune things, learning form and how to control his body.
He eventually joined the Army National Guard, where he currently serves as a C4 and explosives expert as a Combat Engineer. As he began training to wrestle, he remained in the National Guard, currently splitting his time wrestling on weekends and making up drill time during the week.
Gordon had his first match in May 2015 before bouncing to ROH.
Flip Gordon is making his name one incredible match at a time
Just two short years after his debut, he's tearing down the house with top guys like Will Ospreay, Lio Rush and Ricochet.
"I would have a match with any of those three any day of the week. They're some of the best three in the world," he said.
It's the best wrestling in the world. It's not a tagline, it's the real thing..
"That Ospreay match (at ROH/New Japan Pro Wrestling Global Wars 2017) was my favorite one so far. It was probably the best match I've had so far.
"It was incredible. There's no other word for it. When you're in there with someone else who moves so easily and everything, timing is perfect. it makes it so much fun. When the crowd is as hot as it was in Chicago, it makes it so special. And you're able to create moments like we did in that match. Those are things I'm going to remember forever."
Along with those three standout wrestlers, Gordon acknowledges there's one disgruntled WWE star he'd love to step in the ring with.
"If Neville comes to the indies, I'd love a match with him," Gordon said.
While guys like Gordon, Ospreay and other exciting stars continue putting on contenders for match of the night, Flip recognizes the label of being a high flyer means fighting for his spot on the card.
"It's 100 percent harder for high flyers. In my opinion, you have to work harder to get a main event spot. You have to show you're not just a high flyer," he said.
"As soon as you label yourself as a high flyer, it's a hard stigma to get rid of. Everybody thinks you're just a high flyer and can't do a headlock."
That's just part of the reason Gordon continues to develop his well-rounded skillset.
"I love when styles clash. I prefer to wrestle bigger guys, submission guys, strikers," he said.
"I just want to keep wrestling and learning as much as I can. I don't want to be known as just a high flyer, I want to be much more."
That continued learning process also includes soaking up as much knowledge as he can and hopefully wrestling in Japan one day.
"I want to learn different styles traveling the world in front of different crowds. I learn something new every single day. Whether I'm just watching a match or I'm in the ring," Gordon said.
For Flip Gordon, he's living a dream
As he approaches his three-year mark in the industry, Gordon is grateful for the faith ROH has put in him.
"It's cool that (ROH is) putting this trust in me. I never got that in my life before now. I found something I'm good at and I love and I'm so passionate about. The people that believe in me and see that I have a future is really cool. It makes me want to strive to keep doing better," Gordon said.
"It's a dream come true. I'm two years into this. I'm living my dream job at such a young age. It's a very cool feeling. I try not to take it for granted. It could all be gone tomorrow. There's only so many shows a year. Being able to be on each show is an absolute blessing."
I don't want to be known as just a high flyer, I want to be much more.
For Gordon, working in ROH comes down to just one simple thing — the best wrestling in the world.
"It's must-see TV. It's the best wrestling in the world. It's not a tagline, it's the real thing."
Gordon can be seen on ROH's upcoming tour of Florida, Texas and Oklahoma.
Tickets to all shows can be purchased on ROHWrestling.com.