During her title defense at NXT TakeOver Brooklyn III, Asuka suffered a broken right collarbone in her match with Ember Moon, WWE said in a statement.
She is expected to miss 6-8 weeks, per the report.
"During the match, she landed awkwardly from a throw from Ember Moon and was able to complete the match, but had notable pain and discomfort," Dr. Westerfield said. "We performed an initial ultrasound backstage that was highly suspicious of a break that was later confirmed by an X-ray."
We haven't seen anything definitive on when Asuka broke her collarbone, but she did start grabbing at her right shoulder after this brutal stomp during her title defense: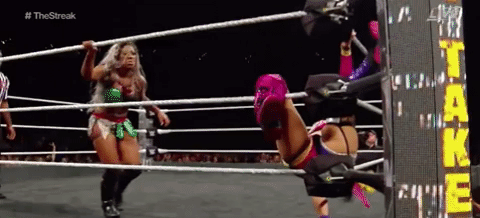 Asuka is unbeaten since her WWE debut in October 2015, holding the NXT Women's championship for more than 500 days.
It would be awful if her title reign ended in WWE stripping her of the belt. That remains to be seen.
Enjoy all things sports?
Don't miss a story! Sign up for daily stories delivered to your inbox.