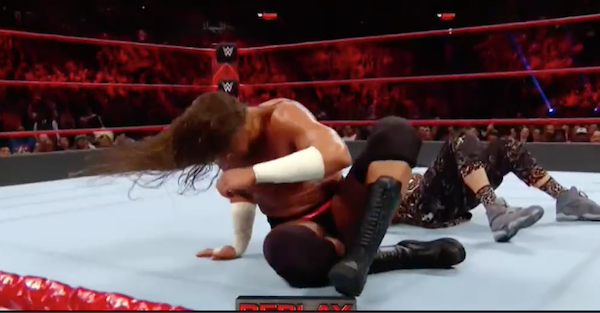 Clippit screenshot
Big Cass was apparently legit injured during his Brooklyn Street Fight match against Enzo Amore Monday night. WWE confirmed the injury later on their website.
?It?s hard to tell what the extent of the injury is, but we?re going to send him to get an MRI tomorrow and figure that out,? said WWE ringside physician Dr. Chris Robinson.
Enzo cut a promo before the match, saying their rivalry will end right where it began — in New York.
Cass hit Enzo with a shopping cart and tossed him into the barricade. Cass gave a chair to Enzo, then hit him with a big boot. Cass attempted a big boot with Enzo on the apron, but he pulled the rope down and Cass fell over the top rope, apparently tweaking his knee.
Back in the ring, Cass stomped on a chair as Enzo crawled to it, picked him up and slammed him. Cass tried to go for the Empire Elbow, but his knee buckled under him.
The ref called the match and gave the win to Enzo.
The news comes after earlier in the day news broke that Asuka had broken her collarbone during her NXT TakeOver Brooklyn III match with Ember Moon.