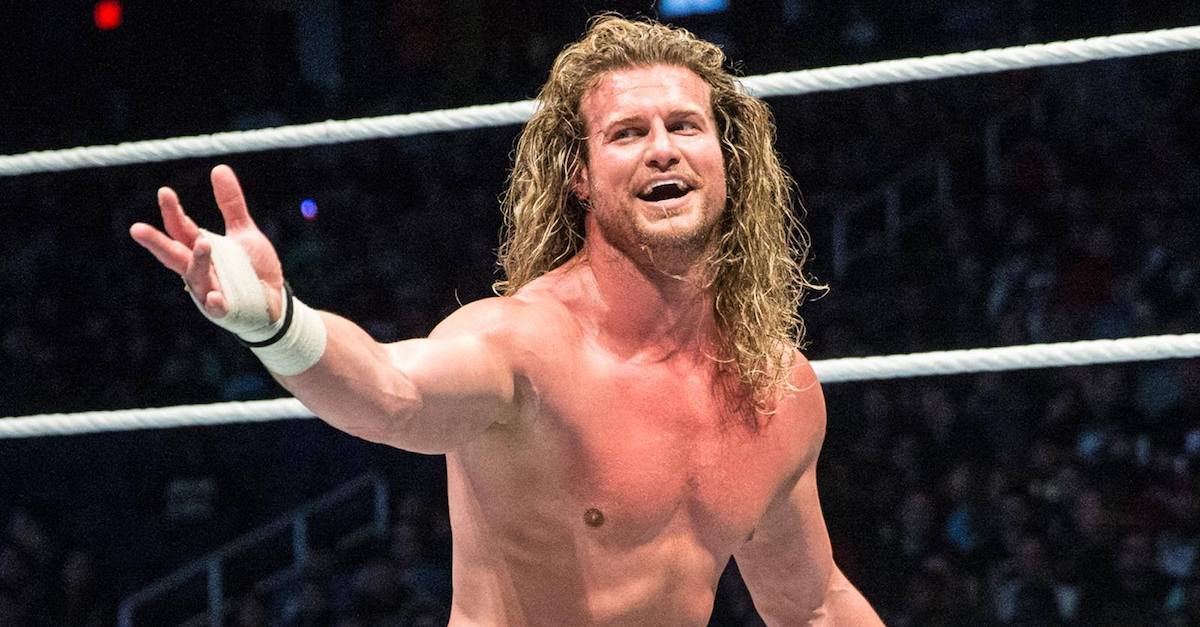 Dolph Ziggler/Facebook
Dolph Ziggler/Facebook
On Tuesday night's episode of SmackDown Live, Dolph Ziggler was able to work his way into the WWE Championship match at Fastlane that also features AJ Styles — the champion — against Sami Zayn, Kevin Owens, and Baron Corbin.
But why did Ziggler get that opportunity in the first place, and what does he even add to that match?
Let's back up for a second: On the Dec. 17 Clash of Champions show, Dolph Ziggler won the U.S. Championship from Baron Corbin in a triple threat match that also featured Bobby Roode. Two days later on SmackDown Live is when things got weird: after a long-winded promo, Ziggler vacated the U.S. title and seemingly walked out of the company. A tournament was held to crown a new champion, which ended in Bobby Roode winning the title by defeating Jinder Mahal in the finals.
Come the Royal Rumble on Jan. 27, it was announced that Roode would be defending his title in an open challenge match against an unannounced opponent. Seems like a spot tailor-made for Ziggler to come back and claim that he never really lost the title in the first place, right?
Nope. Instead we got Mojo Rawley vs. Roode — Roode won — and Ziggler returned later in the night as the 30th entrant in the men's Royal Rumble match. Ziggler was thrown out of the ring without much hassle as Shinsuke Nakamura went on to win the match and challenge AJ Styles to a title match at WrestleMania 34 in Orlando.
To cap things off, Ziggler wasn't even on the next episode of SmackDown Live. In storyline, it makes no sense that Ziggler "left the company", came back, failed at the Royal Rumble, and then is just randomly given an opportunity at the WWE Championship.
Outside of storyline, it possibly makes less sense that Ziggler is in the match. Years and years of dead-end feuds means that Ziggler doesn't come across as an important star, so he's not adding star power to the match. Remember the build that Ziggler had with Dean Ambrose in the world title feud back before SummerSlam in 2016?  It was great, but when the actual match happened, no one cared because no one believed that Ziggler would actually win the championship.
To be fair for a second: the match didn't need Baron Corbin either, but he was added as well. Now we randomly have a five-way match in the main event… just two weeks after there is a seven-way match in the match at the Elimination Chamber show… which was a month after the Royal Rumble, which had two matches with 30 separate competitors and two world title matches that each featured three men.
What happened to singles matches, y'all?
Back to being less fair: there's been speculation that Ziggler could actually win the match at Fastlane, and thus go into WrestleMania as champion against Nakamura, or against Nakamura and Styles in a triple threat match. Why? I don't know, apparently Styles and Nakamura — a match people really want to see — stealing the show before the planned main event between Roman Reigns and Brock Lesnar would be too much.
Ziggler's role in WWE is important; not everyone can be a main event player, and you need good wrestlers that can consistently deliver up and down the card. But as far as Ziggler being in this match and potentially winning the WWE Championship? That's not where he needs to be right now, and it's time to just give the fans what they want in a title match between Styles and Nakamura at WrestleMania.