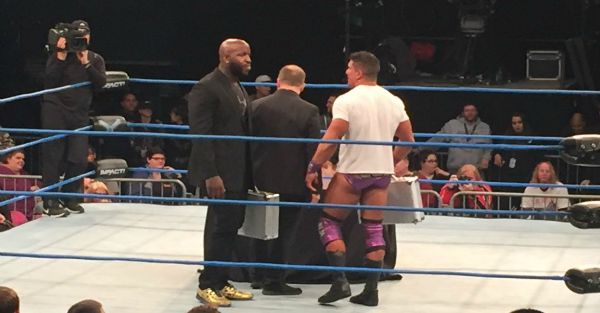 @MrJacobCohen/Twitter
@MrJacobCohen/Twitter
Ethan Carter III to the WWE rumors have been happening for years at this point. Following an Impact television taping, those whispers might begin to turn into more fully formed reports.
During the latest rounds of Impact TV taping, Carter was "fired" after he and Moose both opened briefcases at the same time, with the former's suitcase giving him the boot from the company.
On Saturday, it was already being reported that EC3 was on his way out of the company.
In fact, it was reportedly both Ethan Carter III and Bobby Lashley who could be set to jump ship to WWE once their contracts expire, per the Wrestling Observer.
"The expectation is that Bobby Lashley and Ethan Carter III will leave when their contracts are up, and one or both will end up with WWE."
Couple that report with what happened with Carter being fired on television, and it almost makes too much sense in the land of conjecture to fully expect him back with the WWE.
EC3 once worked in WWE, functioning as a comedic character, Derrick Bateman. He worked in NXT from 2010-2013 before his release. Upon landing in TNA, he quickly rose as one of the top stars in the company.
He's a two-time Impact Global Champion and one-time Impact Grand Champion. The 34-year-old pro has been with TNA/Impact since 2013.
There's always a chance that this is a work. Keep that in mind before you go bonkers.
Either way, fully expect more reports and rumors to heat up until something official comes out of the Ethan Carter camp.