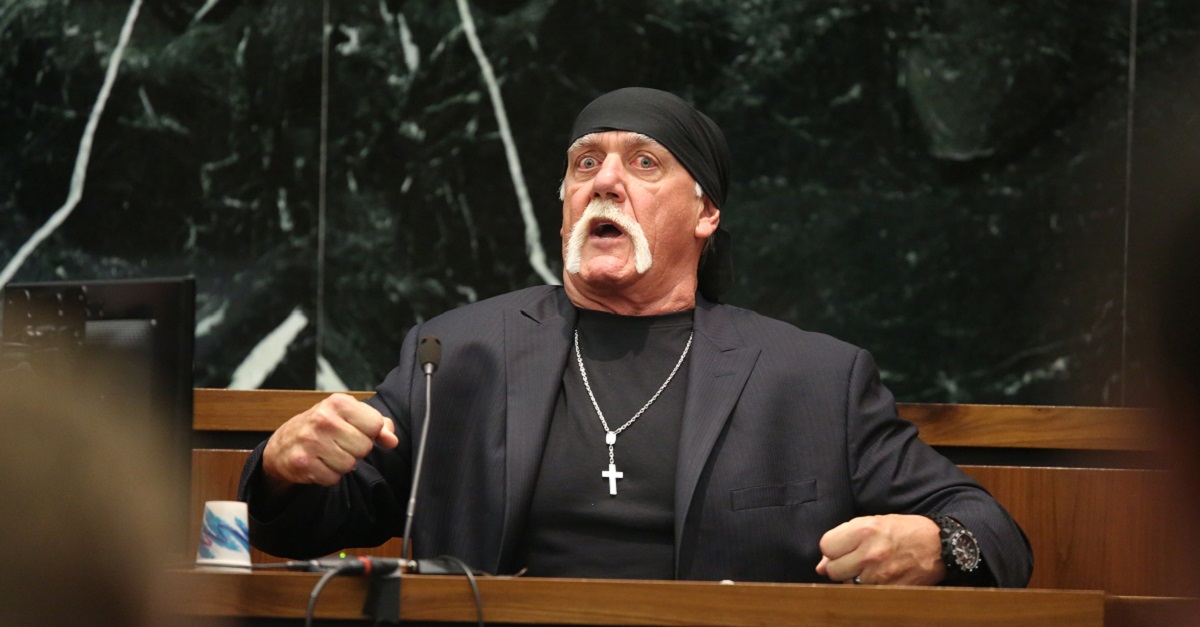 John Pendygraft-Pool/Getty Images
ST PETERSBURG, FL - MARCH 08: NY POST OUT Terry Bollea, aka Hulk Hogan, testifies in court during his trial against Gawker Media at the Pinellas County Courthouse on March 8, 2016 in St Petersburg, Florida. Bollea is taking legal action against Gawker in a USD 100 million lawsuit for releasing a video of him having sex with his best friends wife. (Photo by John Pendygraft-Pool/Getty Images)
WWE is busting out all of the stops for the Jan. 22 show of Monday Night Raw, which is the 25th anniversary of the company's flagship program. Returning legends for the show will include Stone Cold Steve Austin, The Undertaker, and Shawn Michaels, among others.
However, WWE legend Hulk Hogan does not appear to be among those names, as Hogan tweeted earlier this week that he plans to watch the show on television.
A report from the Associated Press appeared to confirm that Hogan was still blacklisted from any WWE programming.
?I don?t know if they want me back,? Hogan said. ?I think the fans want me back. I think that I?m part of that company from the ground up. Triple H I know is a huge fan of the guys that gave their blood, sweat and tears and their personal life to make this happen. I know Triple H would love to see me back on the inside again.?

WWE sponsors would also have to be on board with Hogan?s return.

?At this time, WWE remains committed to its decision,? the company said in a statement.
Hogan was fired from the wrestling company in 2015 after a phone conversation was leaked of Hogan using several racially-motivated slurs. Hogan has yet to appear for the company in any capacity since the leak.
Hogan last appearance for WWE was when he was used in a 2015 revival of the show "Tough Enough".
Hogan is one of the most significant wrestlers in WWE history, having been the promtion's headliner between 1984 and 1993. Hogan then jumped to rival WCW before eventually rejoining WWE in 2002. Hogan had appeared sporadically in WWE up until 2015.
Hogan is a six-time world champion in WWE, and was originally inducted into the Hall of Fame in 2005. Hogan was removed from the WWE Hall of Fame after the 2015 scandal.