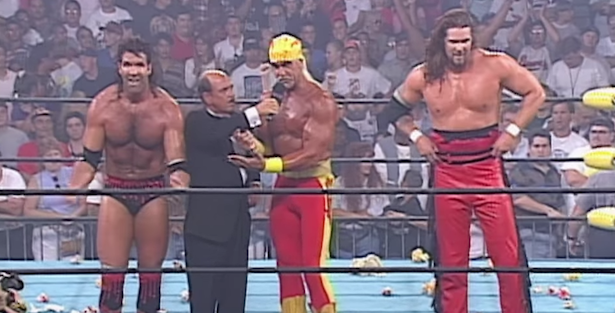 WWE/YouTube
WWE/YouTube
On July 7, 1996 at Bash at the Beach in Daytona Beach, FL., Hulk Hogan turned his back on all the Hulkamaniacs and joined forces with Scott Hall and Kevin Nash to form the NWO in WCW.
It was one of the biggest surprises in wrestling history, as Hogan was the biggest babyface and draw in wrestling history, and still may be to this day. WCW still opted to turn him heel, form the NWO with The Outsiders and see if the Hulk "Hollywood" Hogan character could be just as big as the Real American character.
It was.
Hogan's actions prompted the thousands of fans in attendance to shower the trio with boos and trash as Hogan cut the promo hear around the world: he was trading red and yellow for black and white.
The NWO was obviously a huge success for WCW and dominated its programming years after the Bash at the Beach incident.
For Hogan, it might have been the biggest moment of his career, just for the risk alone, at turning the fan-favorite heel for a rising wrestling promotion.
It all worked, though, and this moment and that faction will be remembered and talked about forever because it was just too sweet.